Exclusivity. Remote locations. Off the grid prospects. It's what so many are seeking in their next getaway and it doesn't get any more secluded than a bespoke yacht charter headed to one's own private island.
As if sailing the serene waters of the Seto Inland Sea in Japan's Setouchi region wasn't soothing enough, the experience becomes elevated onboard a luxurious catamaran that is yours to charter.  Here, the options for island intrigue are endless, from the contemporary art scene in Naoshima to the traditional farm life in Teshima, or the culinary wonders of Shodoshima where one can make their own noodles and soy sauce. However, Kujira Jima is the ultimate destination for those seeking the ultimate in seclusion.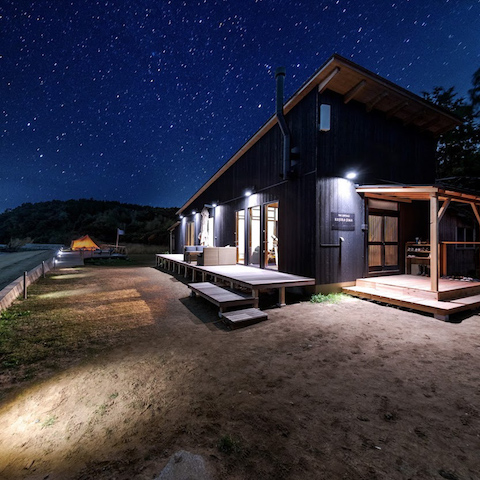 "Whale Island" as it has been nicknamed by locals due to its uniquely shaped silhouette is uninhabited, rustic, and lies just off the shore in the Okayama Prefecture, welcoming guests with open arms for a rich, exclusive experience full of adventure and wonder.   Total privacy awaits with a cottage constructed of burned Japanese cedar which is traditional for Okayama homes, and comes complete with wooden deck, full kitchen, barbecue setup and wood burning stove for chillier nights.
When it comes to food, it's entirely bespoke as guests are encouraged to preorder their items and after eating and drinking comes the adventure in the forms of stand up paddle boarding, sea kayaking, swimming, or simply strolling the grounds and taking in the silence and impossibly stunning natural beauty. In fact, braving the trail to the summit on foot yields the special reward of a glimpse of a remaining Yuga Shrine.
While the cottage provides comfort, adventurists may prefer to camp outside overnight in an onsite tent near the sea whose gentle lapping waves lull travelers to sleep.
For more information, visit setouchifinder.com/en and follow along incredible Setouchi adventures at @setouchifinder.