Southampton Arts Center's exhibition, "TECHSPRESSIONISM — Digital & Beyond" opened on Thursday, April 21.The show reflects the expressive potential of electronic media. Curated by Colin Goldberg, the exhibition includes the works of more than 90 artists working with technology from more than 20 countries around the world. The exhibit runs through July 23. We caught up with Goldberg to learn more.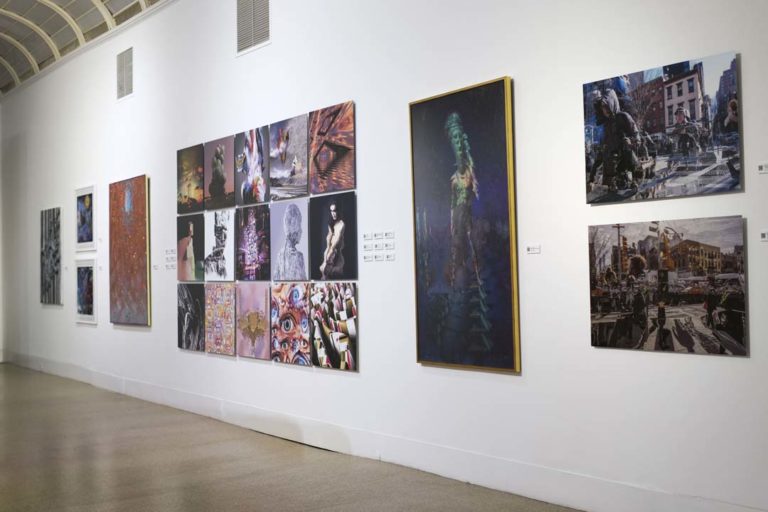 Talk a little about your background and what brought you to this point.
I was born in the Bronx in 1971, and grew up in Southampton. My family moved to the area in the early 1970s when my father Arthur was hired as a Chemistry professor at Southampton College. My parents met while earning their PhD's in Chemistry at the University of Hawaii. My mother Kikuye was born in Honolulu to parents of Japanese ancestry. Her mother Kimiye was an accomplished practitioner and instructor of Shodo (Japanese calligraphy). 
As a teenager in the 1980s, I created my first digital art and code-based animations on our family's home computer, a Commodore-64. Using a dialup modem, I got involved in the underground BBS (Bulletin Board System) scene, in which I was introduced to early hacker culture, known as the "demo scene."  It was called this because of the elaborate audiovisual "demos" that "cracking crews" would create as intro sequences to pirated video games. Much of this culture was influenced by graffiti artists of the time, and has gone on to inform the NFT culture of today, in which many artists (and collectors) operate anonymously using "handles." 
I graduated from Southampton High School as a member of the class of 1990. As an undergraduate Studio Art student at Binghamton University, I studied painting under Angelo Ippolito, a New York School Abstract Expressionist. He introduced me to abstraction and encouraged me to pursue my art career. In the summer of 1993 I did an internship through Southampton College as a studio assistant for Steve Miller, who later became one of the founders of Techspressionism. I learned the art of silkscreen alongside another assistant of Steve's named Robert Bardin, who was formerly a printer for Andy Warhol.
I established my first studio in Williamsburg, Brooklyn following my graduation in 1994 and began freelancing in the multimedia industry, developing CD-ROMs at a small shop in the East Village. I remember the owner of the shop coming in one day, saying "there's a new way to distribute multimedia globally… it's called 'the World Wide Web'… we've got to get in on this thing." Being the youngest person in the shop, I was tasked with learning how to hand-code HTML. I went on to freelance at a number of advertising agencies and media companies, producing launch websites in the mid '90s for consumer brands such as Snapple and Popular Science. 
While I was working within the online industry, I began exploring abstract digital art with my Metagraph series of vector-based digital drawings, begun in 1999. My piece "Kneeling Icon" in "TECHSPRESSIONISM: Digital & Beyond" is one of the works from this series. The piece was drawn in 2004, and has been produced as a 6 x 8 foot digital monoprint for the exhibition. It has also been reborn into a 23-second animated NFT, which is viewable as an augmented reality component to the physical work in the show. When you view the physical piece on your mobile device with the free Artivive app, the work transforms into the animated NFT on the gallery wall. The physical work at SAC is being sold together with the 1/1 NFT to establish provenance for the collector. 
Around 2005, I began experimenting with printing on painted surfaces. My other two works in the exhibition are paintings on linen that combine gestural knife-painting with acrylics and intricate wireframe forms printed directly onto the painted surfaces.  
Shortly after this, I enrolled in the MFA Computer Art Program at Bowling Green State University in Ohio under a full scholarship. This is where I met Patrick Lichty, who was a colleague of mine in the program, and would go on to become one of Techspressionism's founding artists.  Our graduate advisor, Gregory Little, created seminal work in the area of Virtual Reality art after earning his MFA in Painting from Yale. He is also included in the exhibition at SAC. Shortly after enrolling, my digitally-overprinted painting "Pollock's Studio" was accepted into the permanent public collection of the Pollock-Krasner House and Study Center. In 2007, the year before I completed my MFA, I had my first solo gallery exhibition, entitled "Wireframes" at the Hudson Gallery in Sylvania, Ohio.  
You coined the term "techspressionism" in 2011. Tell us a little more about that and the general concept of techspressionism.
Techspressionism was originally coined as the title of a 2011 solo exhibition of my work at 4 North Main Gallery in Southampton, which is now MM Fine Art.  The catalog essay for this exhibition was written by Helen Harrison, Techspressionism's senior advisor and Director of the Pollock-Krasner House and Study Center in Springs.   
Techspressionism was originally a term I used to describe my own work, as I never felt that terms such as "digital art" or "new media art" adequately described my work. I felt that I needed a term which addressed works which I considered to be primarily paintings and drawings that also incorporated the use of technology. Since I was influenced by the Abstract Expressionist painters'  embrace of the gesture and subconscious (and unconscious) mark-making, "Techspressionism" seemed an appropriate moniker to describe my work. 
I went on to have two more solo exhibitions based on the concept of Techspressionism; the first was a show at Glenn Horowitz Bookseller in East Hampton curated by Scott Bluedorn in 2014. I drafted the first version of the Techspressionist Manifesto in conjunction with this exhibition. The manifesto and exhibition were covered in this WIRED article, which is the first reference in which Techspressionism was referred to as a movement. 
In 2015, I did a month-long artist residency at The Studios of Key West, during which I had a solo exhibiton called "Techspressionism: Works on Paper." This exhibition was featured on the the PBS show "Art Loft."
In 2020, I saw in a Google News search that a Southampton-based artist named Oz Van Rosen had used the term "Techspressionism" to describe her work in several news articles between 2017 and 2020.  I reached out to her to see if she might be interested in formulating an artist group around the idea.  On September 1, 2020, the first Techspressionist Salon was conducted on Zoom. It included myself, Van Rosen, Lichty, Miller, and Harrison.  
In that session, we decided upon the definition of Techspressionism as "an artistic approach in which technology is utilized as a means to express emotional experience."
Since then, we have held bi-weekly Salons, which are moderated by artist Davonte Bradley, who goes by the artist name "Davo." It was Davo's idea to record these sessions and publish them to YouTube.
Shelter-Island based artist Roz Dimon developed an interview format based around the idea of artists interviewing artists. This was inspired in part by Warhol's Interview Magazine format.
The digital art pioneer Anne Spalter became involved in the project early on, drafting a text describing the movement and curating NFT Now, one of the internet's earliest curated NFT exhibtions. The show was a partnership between Techspressionism.com and Kunstmatrix, a 3D exhibition platform based in Germany. NFT Now was featured by Artnet as a Frieze Week Editor's Pick the week it opened.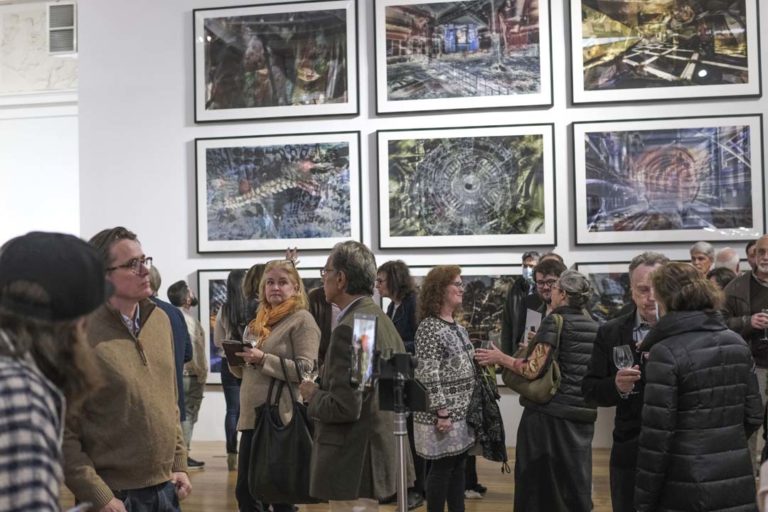 Congratulations on a very successful opening. How do you feel about the final product?
I am very happy with the completed installation. I feel that Christine Sciulli's site-specific work "Intercepting Planes" adds an experiential component that makes the show unique, providing a trancendental passageway between the two main exhibition spaces. I am also very pleased with the way that Michael Rees' large inflatable sculptures act as a central visual component to the main spaces.    
I was also happy to be able to include works from artists, ranging from up-and-coming artists making a name for themselves in the NFT space such as Andy Thomas, Sue Beyer, Dubwoman, Tommy Mintz, Renata Janiszewska, and Skywaterr to notable contemporary artists who have been working with technology for decades such as Victor Acevedo, Suzanne Anker, Frank Gillette, Clive Holden, Patrick Lichty, Chalda Maloff, Paul D. Miller aka DJ Spooky, Steve Miller, Joseph Nechvatal, Michael Rees, Christine Sciulli, Nina Sobell, Anne Morgan Spalter, and Nina Yankowitz.
I think one of the most significant components of the show is the "global grid," which is a grid of 15 unique (1/1) digital prints on aluminum. The grid represents artists from 14 countries.
This show could not have happened without the expertise of master art installers Ward Ackerman, Kerry Sharkey-Miller, and Lisa Weston and the amazing team at SAC: Tom Dunn, Joe Diamond, Diana Torres, Norma Vargas, Tsewang Motch, Marlene Esposito, Nicole Hadix, Deborah Acquino and Nancy Miller for helping to make this happen, as well as Rachel Bosworth of RB Collaborative. 
You talk about how the show's senior advisor Helen Harrison made the suggestion to redefine techspressionism as an 'approach' rather than a 'style.' Talk more about how this has been critical in its development as a movement.
I feel that Helen's suggestion at our first Salon to define techspressionism as an approach rather than a style has provided the potential for the term to encompass many of these trends within a larger context of art-historical nomenclature based around the digital age in which we live.
What do you want visitors to take away from the exhibit?
I would like people to learn a new word: "Techspressionism." Many people have asked me what my goal is for this project. Ultimately, my goal is for the term to be brought into common usage as a term of art-historical nomenclature and to end up in the dictionary, alongside terms such as Surrealism, Futurism, and the like. This is in response to the inadequacy of terms such as "digital art" and "new media art" to describe contemporary paintings, sculptures, prints, and installations incorporating technology. The diversity of works in this exhibition should illustrate that "digital art" is just a starting point; perhaps this wide gamut of possibilities is better described as Techspressionism.
Tell us about your own work as an artist.
My work explores the relationship between technology and personal expression. My studio practice bridges multiple disciplines, notably painting, printmaking, digital media, and most recently, social sculpture. Social sculpture is a phrase used to describe an expanded concept of art that was invented by the German artist Joseph Beuys. Beuys created the term "social sculpture" to embody his understanding of art's potential to transform society. This is how I choose to view Techspressionism's development from a personal vantage point: as a collaborative decentralized social sculpture, whose aim is to advance and enable artists in the digital age.  My work is available online at www.goldberg.art.