Jesse Van Bergen went to Bali in search of answers. Upon landing she found a frightened and starving dog in need of rescue. The dog, named Shiloh, then took her on a journey that she couldn't have imagined.
Shiloh had a very painful skin infection, so she brought him to an animal shelter. At the shelter she met Hui, who worked with a veterinarian who used Ozone Therapy to heal elephant wounds. She was given the oxygenated infused water to use on Shiloh and within three weeks his skin was healed.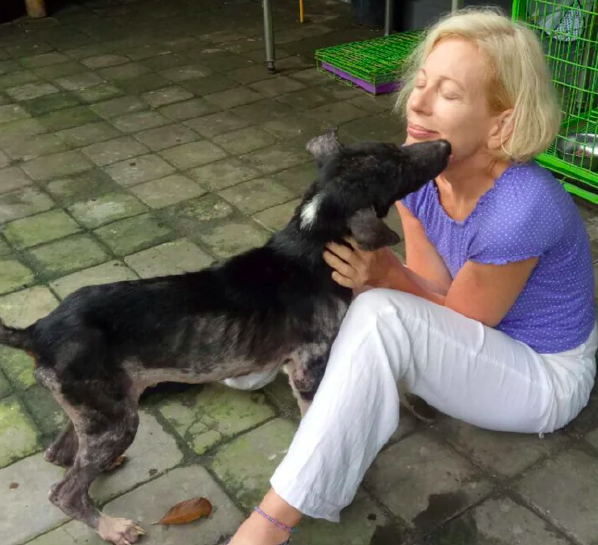 One day while visiting Hui, Van Bergen was gifted the skin care line Purely Prana that Hui had developed and produced by using an Ozone Generator to infuse organic oils. Oxygenated oils are said to bring vitality and nutrients to the skin. Van Bergen used the oils daily and when she returned home to the East End months later her friends all thought that she had work done to her face.
She later partnered with Hui to bring the line of product to the US, while donating 10 percent of the proceeds to ACT4balidogs, a rescue that rehabilitates and finds homes for 70 to 100 dogs at a time in Bali.
Her mission is to help people stop paying for chemically infused products, often tested on animals, as well as to help suffering animals in Bali.
Tell us about the story behind
Purely

Prana. 

Your products are made in Bali? Talk a little about your time in the region and how you produce the product.

I spent most of my time in Ubud, a magnificent, magical, beautiful place. Bali is often referred to as "Island of the Gods" and it most certainly is that. However, being a dog lover as I've always been, it can be a very painful place to be, due to the many rice farmers who poison dogs to keep them off of their land or the meat markets that sell dogs to restaurants. This is why I am so taken with the two girls at Act4balidogs. They actually go into the meat markets at night and bring the dogs to safety and try to save every suffering dog that crosses their path.

I had met Hui who had been healing elephant wounds with Ozone. She had great success with the elephants and developed a line for humans. She has an Ozone generator that has tubes coming from it, which she inserts into organic jojoba, coconut, or olive oil for 36 hours. This oxygenates the oils and changes their molecules giving them medicinal properties. Most of my customers buy our products for their anti-aging properties, however, they also heal many skin conditions, such as acne, eczema, and psoriasis. I have used them on my 4-year-old granddaughter's cuts as well as my pup's cuts. She had gifted me her product line, which I used during my four-month stay in Bali. When I returned to New York, 57 at the time, all of my friends thought that I had face-work done in Bali. While I was away, I rarely looked in the mirror because I spent most days in an animal hospital visiting the dog that I had saved and then also spent time volunteering at an elephant sanctuary.

After I listened with glee to my friends telling me how great my skin looked, I took a mirror outside into the bright sunlight and was beyond pleased to see that all of my sun spots (from earlier years) had vanished, fine lines around my mouth and eyes had diminished, and my usually dry skin was well hydrated, giving it a youthful, supple glow. Prior to discovering Purely Prana, I had spent thousands of dollars in search of the product that was going to actually improve my skin tone. Although most of them felt really good upon application, none of them transformed my skin.

What inspired you to bring Purely Prana to the East End market.
As far as my selling my products on the East End, I have a home in Sag Harbor and, fortunately, we have a surplus of very conscious stores out here. Purely Prana is a small business, put together with love. Hui, in Bali, produces the products, I import and distribute the products, and, of course, Act4balidogs, who played a part in my decision to import these transformative products.
Prior to my trip to Bali, I had been a school teacher and was in a transitional phase (which was part of my reason for going to Bali), and trying to figure out what to do next. One evening, I was at my dad's (my lifetime go-to) questioning my next "plan" and he asked me what I was passionate about. I immediately responded, "Dogs." At that same moment, my sister, who isn't the type of person to travel with skin care products, took out a jar of our oxygenated jojoba oil and rubbed it on her face. I giggled because, as said, it was so unlike her to be carrying around products. She said, "This is the best product I've ever used, I absolutely love it." My dad said, "Here's your answer Jess, your skin looks great and you want to help dogs. Import the products and give part of the proceeds to the dog rescue."
What is oxygen infused skin care exactly and can you talk a little about the science behind it?
My website, purelyprana.com, has a science section explaining, in detail, the benefits of Ozone (aka, oxygenated) infused oils for the skin.