"Leila Pinto: Ocean Inspirations," a solo exhibition of ocean-themed paintings by Leila Pinto, will open at the Rogers Memorial Library in Southampton on October 1 and will run until October 31. The opening reception is on Saturday, October 7, from 2 to 5 PM.
The show features abstract seascapes that reflect the artist's love of the ocean and her concern for the environment. Leila Pinto is a New York City and Hamptons-based artist who works with oil and mixed media to create paintings that explore themes around current events, culture, and nature. She draws inspiration from her career on Wall Street as a Managing Director, where she witnessed global events like the financial crisis and Brexit, as well as from her weekends and summers spent on Eastern Long Island, where she enjoys the beauty and tranquility of the ocean.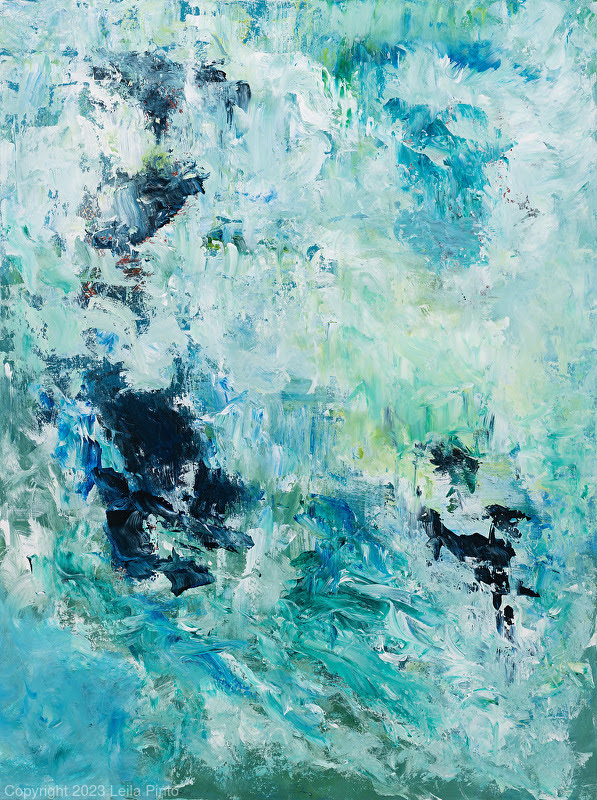 The paintings in the show are part of her ongoing series of abstract seascapes, which capture the light, color, and movement of the water. Through her ocean-inspired paintings, she raises awareness and inspires action on important global issues like climate change.
Leila is also exploring new digital technologies in art. She spoke on a panel in Davos on NFTs and the Metaverse, was featured in the first all-female exhibition in Singapore, and was named one of the top NFT artists to watch.
Her paintings have been included in prestigious juried art shows, shown in galleries, received awards, published, and displayed on the Jumbotron in Times Square, at the Oculus, World Trade Center, on a giant 24-foot-tall Monolith at SCOPE art fair in Miami, Monte Carlo, and more.
For more information about Leila Pinto's work, visit her website at leilapinto.com.