The family owned and operated bistro Demarchelier Restaurant opened in 2020 in Greenport, bringing a taste of France to North Fork. The latest incarnation of the Upper East Side classic is currently serving loyal customers both old and new.
Unlike the Upper East Side restaurant, which closed its doors after 40 years of business, the Greenport location is more casual. It offers a cozy and inviting atmosphere, perfect for this season.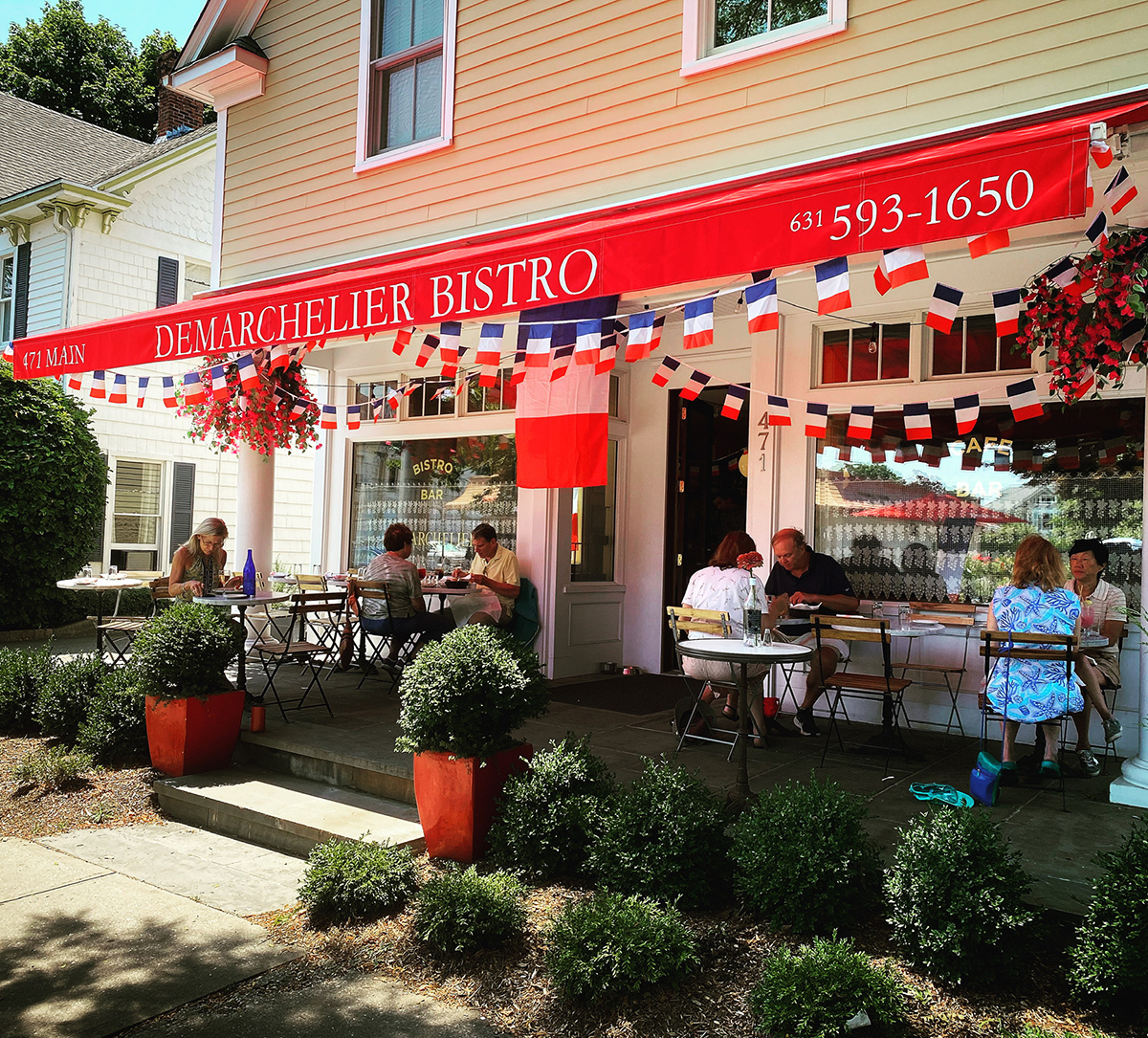 Grab a seat at one of the marble top cafe tables or the antique bar, brought over from the former location, or opt for outdoor seating to enjoy your meal or a beverage. Colorful paintings by founder and famed artist Eric Demarchelier line the walls. It's a great spot for a quick bite, a romantic date, or a convivial meal shared with family and friends over laughs and just enough wine — it's the epitome of authentic French cafe culture, transporting you to the heart of Paris.
The menu can be paired nicely with a wide range of French wines. The libations menu includes cocktails like the La Provence Martini, aperitifs such as a Kir Royal, cider of Normandy, beers, Champagne, and dessert wine. And speaking of dessert, no meal at Demarchelier would be complete without it — it would be a foodie crime to leave the bistro without trying the chocolate mousse or crème brulée.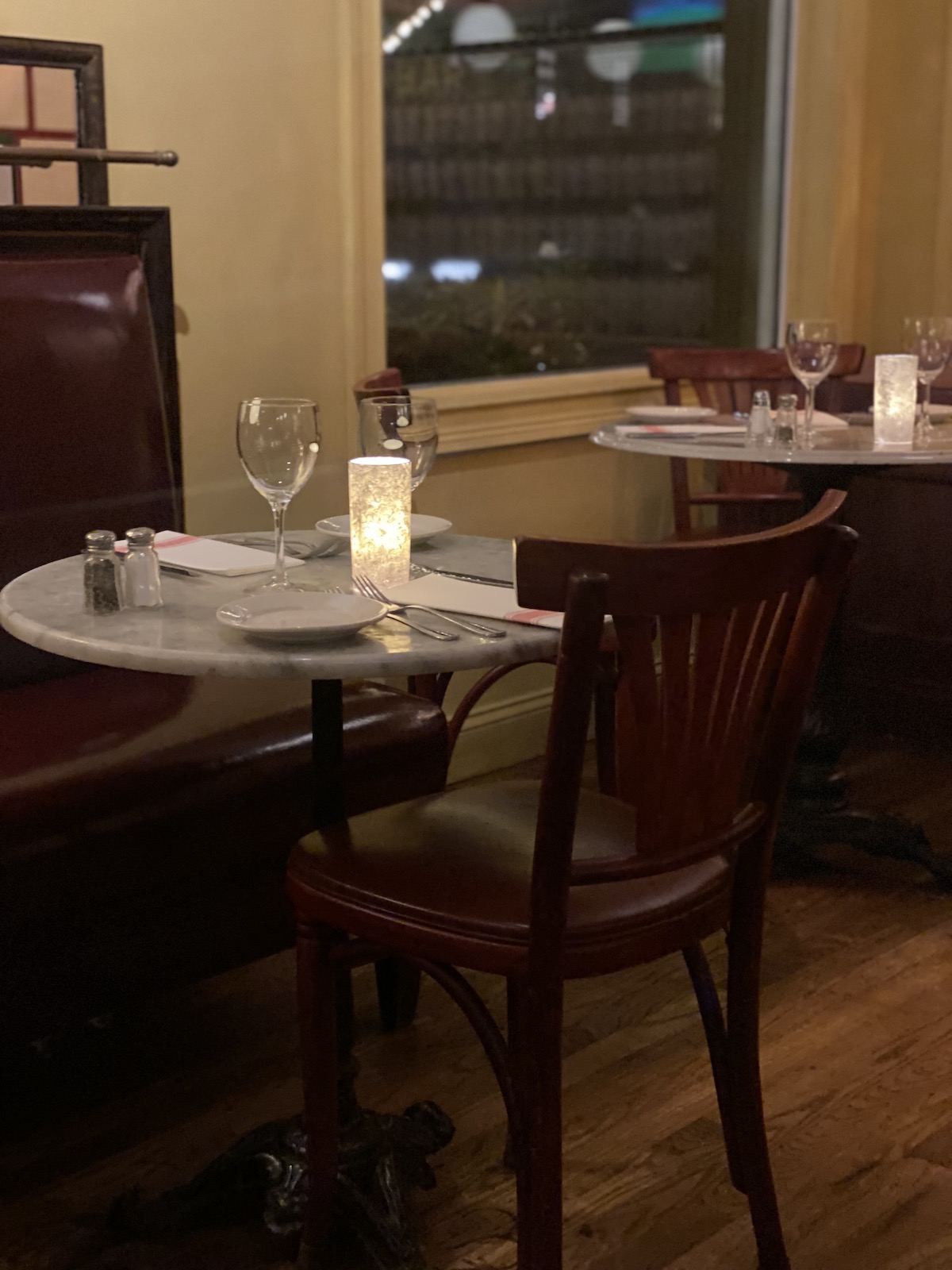 But before you get to dessert, you'll enjoy small plates like artichoke hearts with warm goat cheese, escargot, or the cheese fondue. Classic entrees include steak tartare or the duck confit served with pomme dauphine. Come hungry and leave satisfied.
We spoke to Emily Demarchelier, the current owner and daughter of Eric, to learn more about the restaurant and its move to the North Fork.
Can you tell us about the
history of the restaurant.
My parents moved to New York City in 1977. I was born in Paris in '77 and came back to the city soon thereafter. My parents opened the first Demarchelier on 62nd and Lexington Avenue in '78, and it was there for about 13 years. It was a really small space. A lot of celebrities went there. It was in an era where it was kind of like a French restaurant boom. People would go there and then go to Studio 54. The restaurant had to close because the rent went up dramatically. There was about a year and a half hiatus before we found a new space for Demarchelier on 86th and Madison. We were up there for 30 years. It opened in '90 or '91. I was in high school at the time. It was a neighborhood fixture for 30 years. I ran it the last 13 years. 

What inspired the move to Greenport?
I grew up on Shelter Island every summer and weekends my whole life. Maybe 12 years ago, I started visiting Greenport and seeing great restaurants and bars there, and brought my family. And we were just super impressed with the transformation that Greenport was going through and I thought it would be a great place to open Demarchelier. In the city we had to close the restaurant because the landlord decided to redevelop the corner and they were going to tear the building down. So I just saw that as my opportunity to move the business out east. 

It's become a neighborhood fixture. How has your
 

experience been since you opened?

 Oh, it's been great. I mean, the locals, like everyone on the North Fork, are so nice and gracious, and it's kind of a nice refreshing change from the Upper East Side. I also have a lot of customers from New York City that come, they take day trips or trips from the Hamptons, or those that lived on the North Fork could come to visit me all the time. And it's so great to see all these familiar faces continue to follow me along. 
Let's talk about the menu. Do you have any favorite dishes? Does much change seasonally? It's a very authentic French menu.
I really wanted to keep it very classic French bistro dishes and not veer too far outside of that. I like that because there are not many places out here that do that sort of thing. So it's very different, you know, like the smoked herring that we have that's a very typical dish. The herring comes from Normandy, where my family is from. I don't know that I have a favorite. My favorites always change. 
They're all kind of my favorites. The escargot is great. The lamb shank or the steak tartare. What I do, even though the menu stays fairly consistent all year, is change the specials seasonally, weekly, and daily. So that always kind of reflects the seasons. 

Let's talk about the artwork you have on the walls by your father, Eric Demarchelier.
So my father started painting about 25 years ago or so. We've always used the restaurant in the city as sort of a gallery. And we sold a lot of pieces from there. And so I wanted to continue that. It really gives a nice little contrast with all the black and white old photos from Paris bistros. The colorful paintings often change too, because we either sell them or we just try to keep things fresh and new and exciting and customers love coming in and say, "oh look, that's new." 

Do you have anything
 

coming up that we should know about?

Now that it's starting to get colder, we're starting to do cassoulets every Thursday. You can always count on us having a nice comfort food. It's made with duck confit and pork belly and sausage and beans. So that's another very classic French winter comfort food.