Founded by Jason Lyon and Bridgette Morphew, Morphew is a vintage retailer known for carrying a curated selection of designer labels. From '60s Dior to rare finds by Alaia, it's a space for vintage fashion and eclectic homewares and furnishings. The team has opened its second flagship boutique at 56 Hampton Road in Southampton, following the success of its first store in Miami last year, inside The Faena Hotel. We caught up with Lyon who serves as creative director.
Tell us a little about your backgrounds and how you started Morphew.
Bridgette and I have worked together for over 20 years. Traveling the globe, sourcing inspiring vintage pieces for the worlds greatest designers, from Australia to Paris, London, Bali, Antwerp, LA, and everything in between, all back to New York City. We decided to take our design talents and trained vintage eyes to the retail consumer around 2014. Utilizing our unique experience from working with houses as illustrious as Alexander McQueen, Valentino, and Chloe to all of the innumerable small brands we help with ideas, we have a unique insiders take on the inner workings of the fashion industry. With that experience and knowledge we launched Morphew, as Bridgette liked to say "turning the inspiration back onto ourselves." With Morphew we have learned from everyone else's mistakes that we've seen and that's why what we do is so different.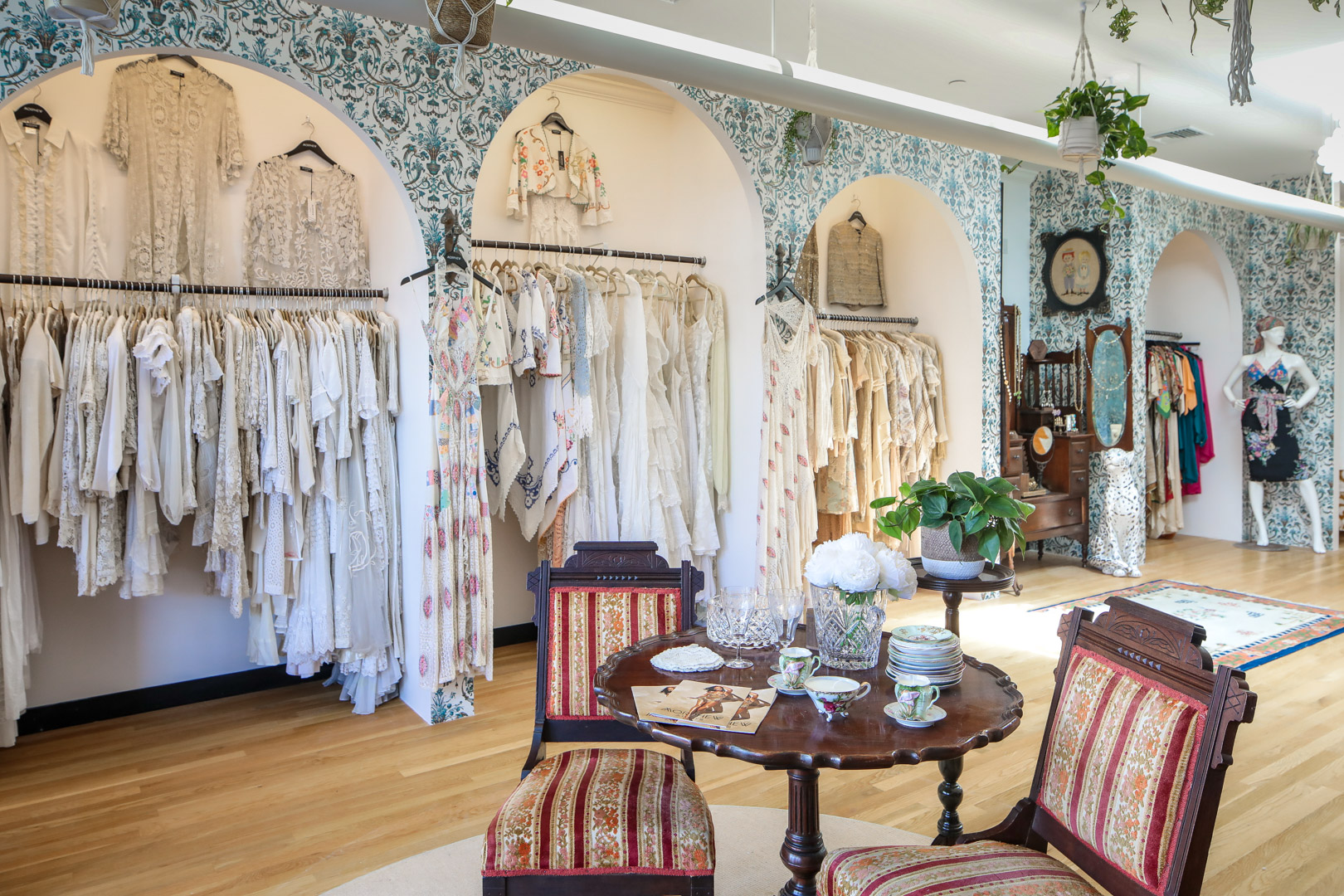 Can you tell us more about the concept for the new Southampton shop?
One of the major faults of the fashion industry has been exclusivity and exclusion. With our store we are flipping that in reverse. We want to create an atmosphere where we regularly have other brands in our store, friends both old and new which we've met along our path. The consumer today wants a family of friends and a community. Also the layout of the store is designed to enhance the shopping experience more into a hang than a shop. Inspired by Grandma's rec-rooms of years past, the nostalgic mash-up design decor includes '70s paneling and Victorian wallpaper and antiques, meant to help the customer feel familiar and relaxed, so that they can get into a state of play and fun and dress-up time! One feature we're all excited about is the costume jewelry "bar:" an 1880s vanity staged to inspire play and dressing up, bringing back those warm memories of sitting at your mother's dressing table as she put an heirloom necklace on you before your first big date.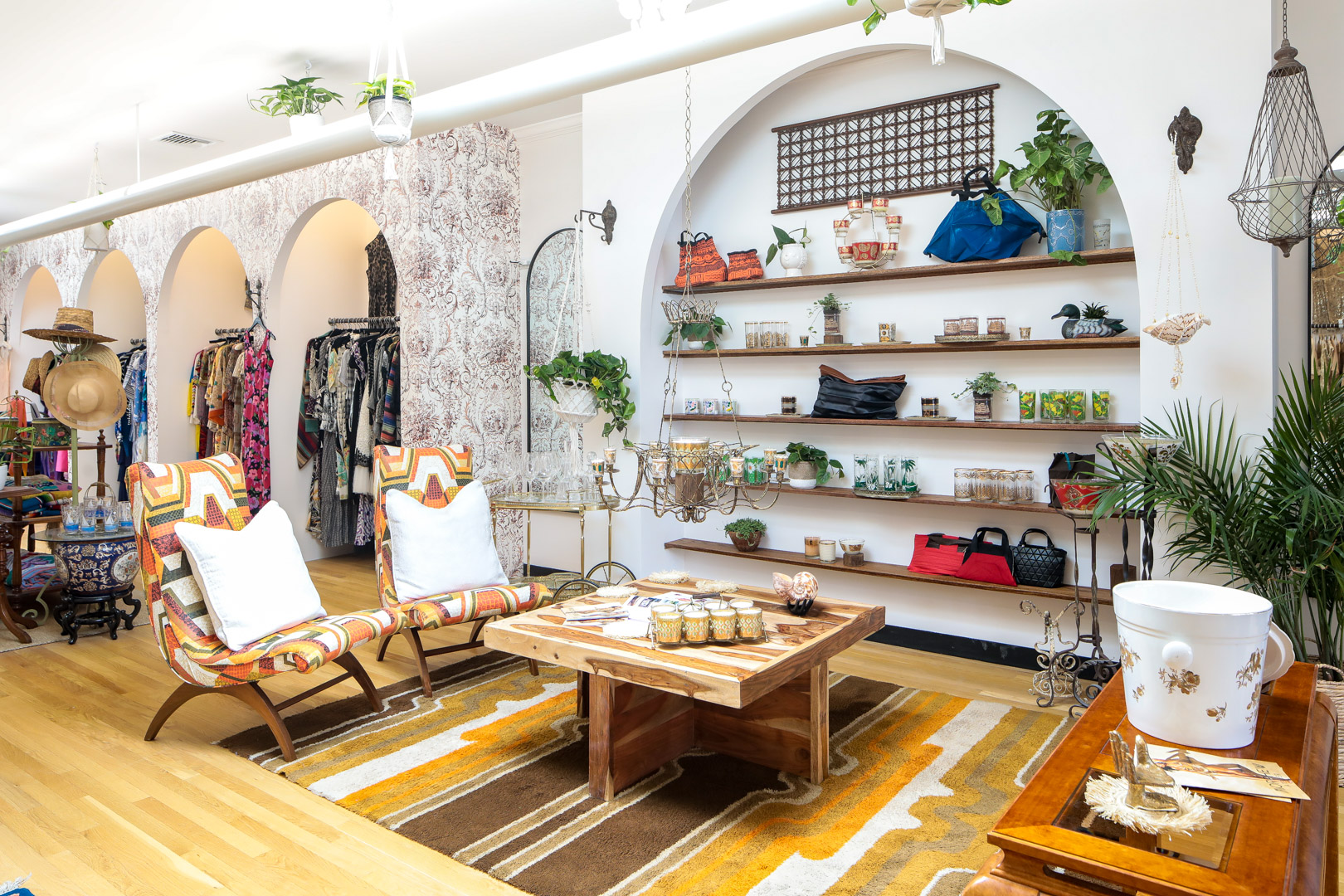 What are some of the items that we can expect to find?
With such a large space we can really let our full breadth of product breathe. From vintage clothing and furniture to our Morphew Atelier gowns, to Morphew Abode, featuring a new Hamptons exclusive, our antique tea cup candles. There is so much to discover. Featured will be a "summer whites" wall, Morphew style, featuring a large selection of our coveted Morphew Atelier lace gowns. Additionally there will be innumerable antique organic cotton pieces, which the Hamptons customer knows us for. The selection is meant for the modern woman so designer finds in white from Dolce, YSL, Issey, Versace, and Dior will be slipped in there too. We will have a full station of Morphew Collection scarf dresses as well as our new Hamptons exclusive, the vintage plaid silk taffeta collection, from separates to gowns. There will also be a large men's assortment as well as a large assortment of summer formal eveningwear. This all of course mixed in with beach lifestyle ready vintage with pieces such as 1950s sun-suits, featherweight 1920s chiffons, slinky printed 1970s maxi halter dresses.
Tell us more about the sexy maximalism Morphew is known for.
We chose Southampton as our second, and larger, location for a very specific reason. We have become known for the wild suns-out, skins-out party aesthetic of our South Beach location. Those clothes are revolutionary and are great for that lifestyle "But I'd nevah wear this in East Hampton!" Yes there will be some Cavalli and Versace in Southampton however we are here to show the other side of our brand, more of the Oscar and Dior. Featuring hundreds more pieces from our more "true vintage" collections from the 1880s to the 1950s. Yes we are still "maximalist" with color and print. It's just up here we're turning on our love of more antique textiles such as laces and vintage crochet, and more sophisticated textiles like the plaid taffetas. We have a large group of authentic 1950s cotton fit and flare dresses perfect for Southampton luncheons which one would never pack for Miami. This is the beauty of holding over 100 years of fashion, we can curate an entirely specific collection to a region.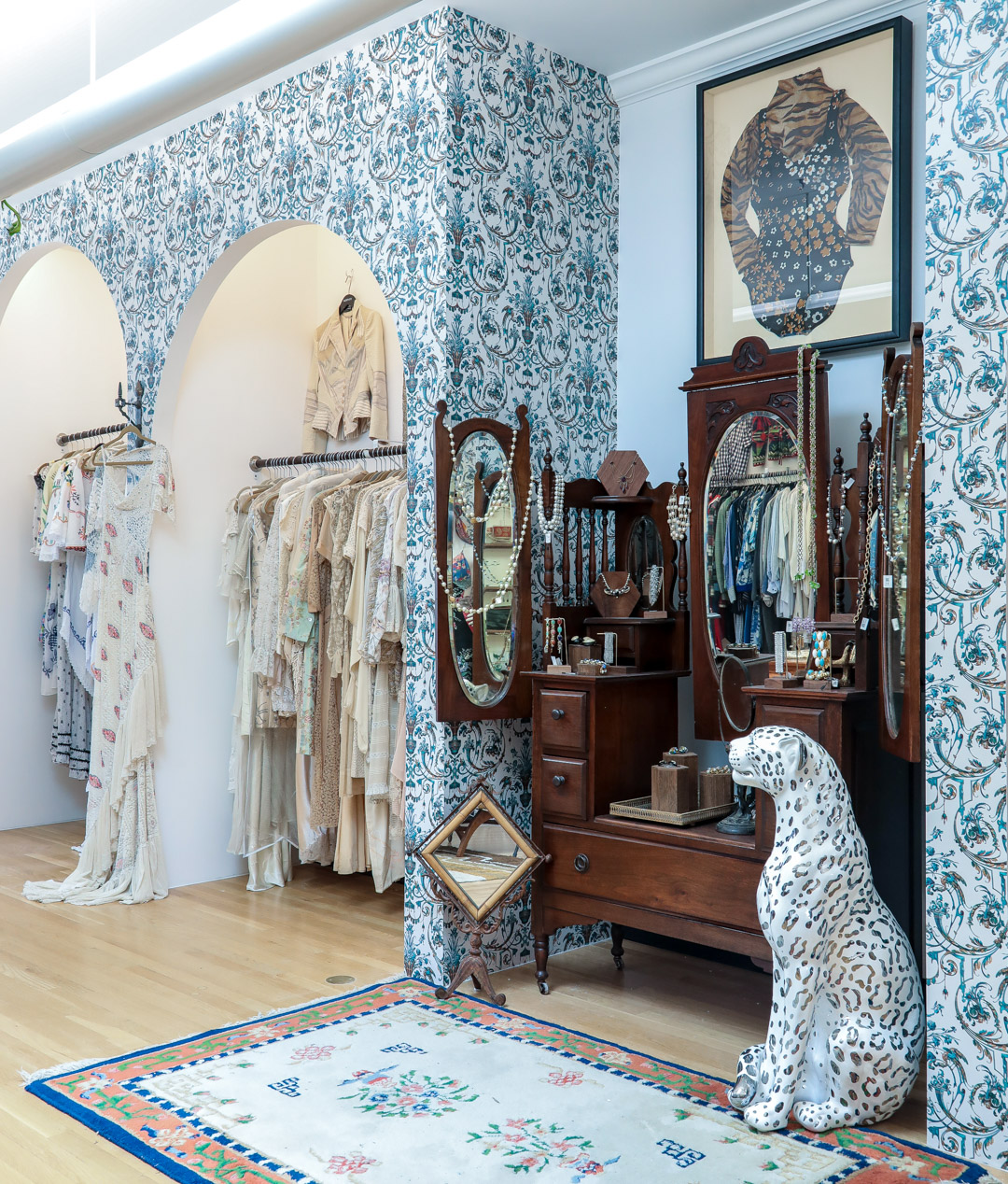 The decor was inspired by your grandmother's 1980s
 

rec-room?

Yes, I hit on this note above. My primary reason is I wanted to evoke a subconscious sense of nostalgia without being trite nor too obvious, while still keeping the vibe feeling new and contemporary. The same exact mental gymnastics I do when designing the apparel. We take the good heirloom elements of the past and make them make sense for the contemporary consumer.
Tell us about your wallpaper collection.
Oh, we are so excited about this. Bridgette and I have been sourcing and selling vintage and antique prints for decades. We have both always loved wallpaper and the transformative nature of it. Being print people we both feel there can never be too many beautiful patterns around. We launched our first collection featuring authentic Victorian prints we have sourced in Europe. Our second collection coming soon will feature all 1970s large-scale geometrics and florals. These two initial collections will show the flip-sides of our aesthetic which is both historically referenced and romantic as it is groovy-sexy-cool. For the Southampton store we are featuring four of our Victorian prints, including our French Cherub design in "Hamptons Blue."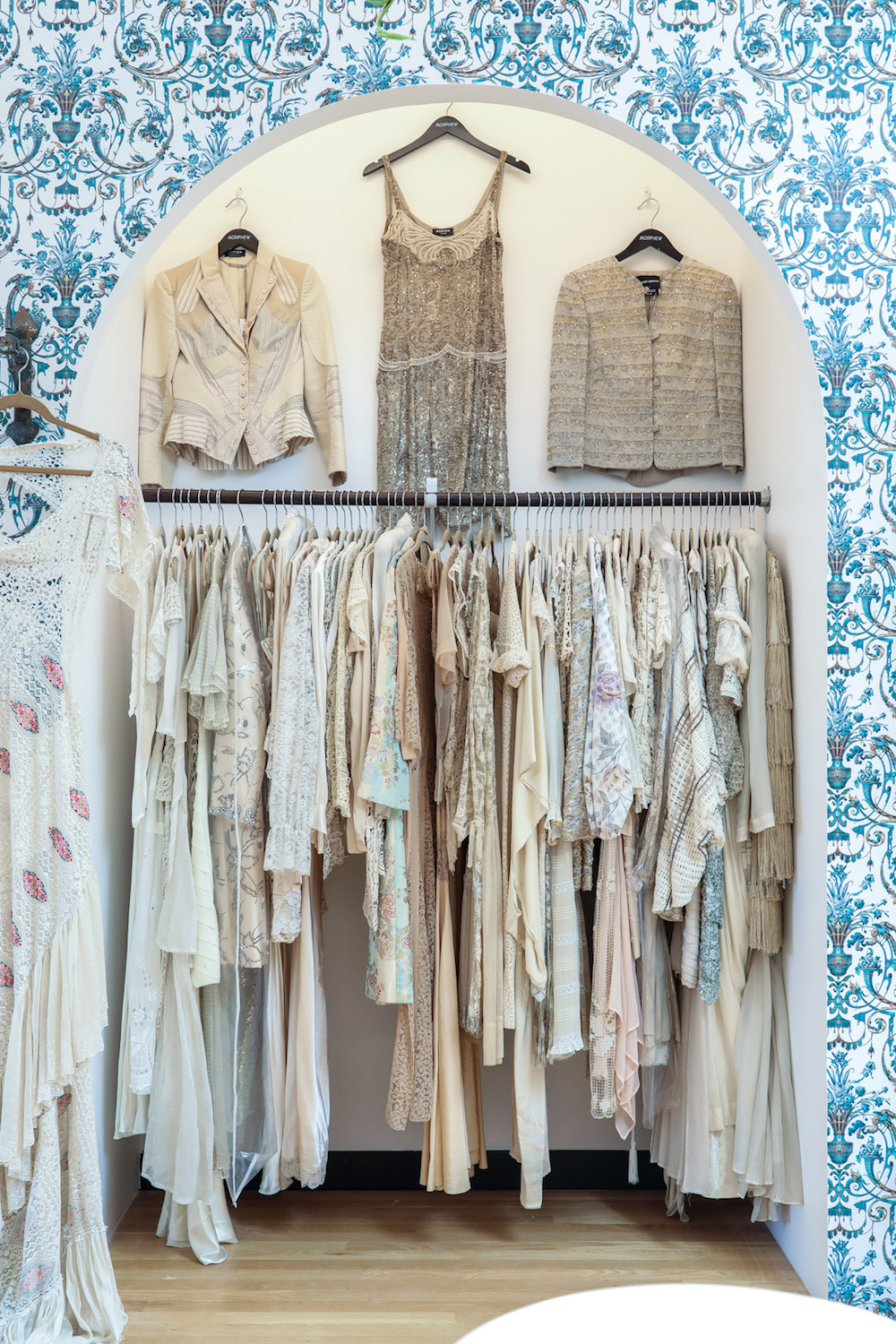 What are you most looking forward to this summer on the East End?
Getting to meet all of our Morphew World citizens, both old and new. This store is a gift to them for supporting us over the years with all of their online purchases. Designing both this store and the product exclusives has been a real love story and we hope our customers can feel the vibes when they come to visit.