Rome is known as the Eternal City. It's an outdoor museum that one could spend months exploring and never see all of. The best way to discover Rome is by walking the city. At every cobblestoned turn you'll be met with a piece of history that you'll marvel is still in existence — a treasure for the eye and for the mind. And while the major attractions (Trevi Fountain, Spanish Steps, Colosseum, etc.) can be filled with tourists, a one block difference will provide a break from the rush, offering cafe-lined alleys, beautiful handcrafted leather goods, gelato, and the beating heart of the city.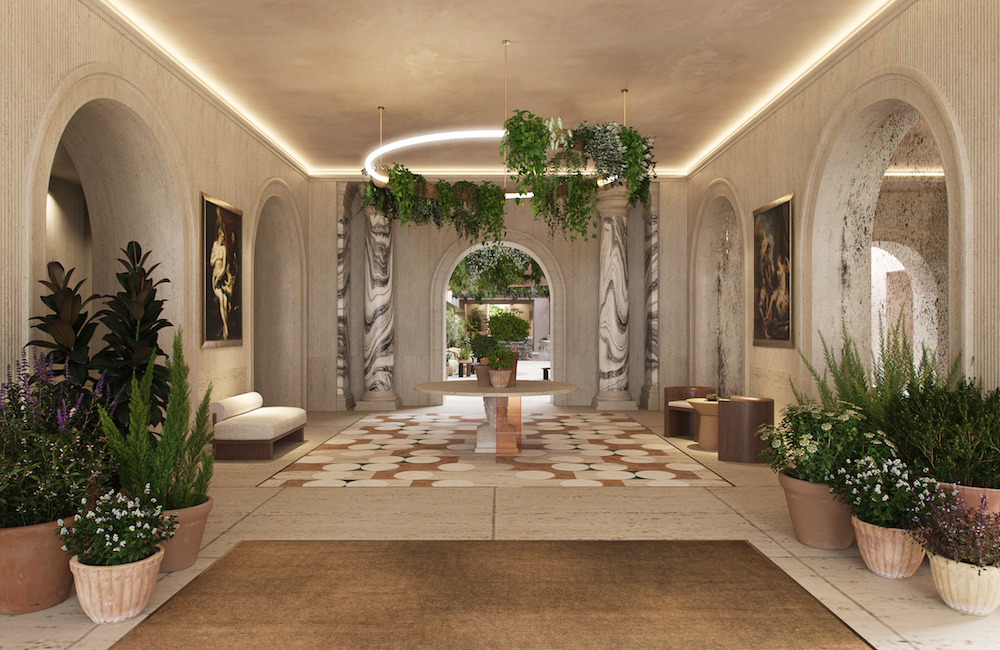 Six Senses Rome
Finding respite from the hustle and bustle is key in Rome — you are on holiday after all. One place to find that in the center of it all is Six Senses Rome, which opened its doors in March in the historical Palazzo Salviati Cesi Mellini. It's a peaceful haven that offers a sense of calmness and tranquility from the moment you arrive. And it will welcome you home after each busy day seeing the sights and navigating the city.
In the Palazzo housing Six Senses Rome, you'll find a monumental marble staircase with a decorative skylight and newly restored 600-year-old columns in the main entrance.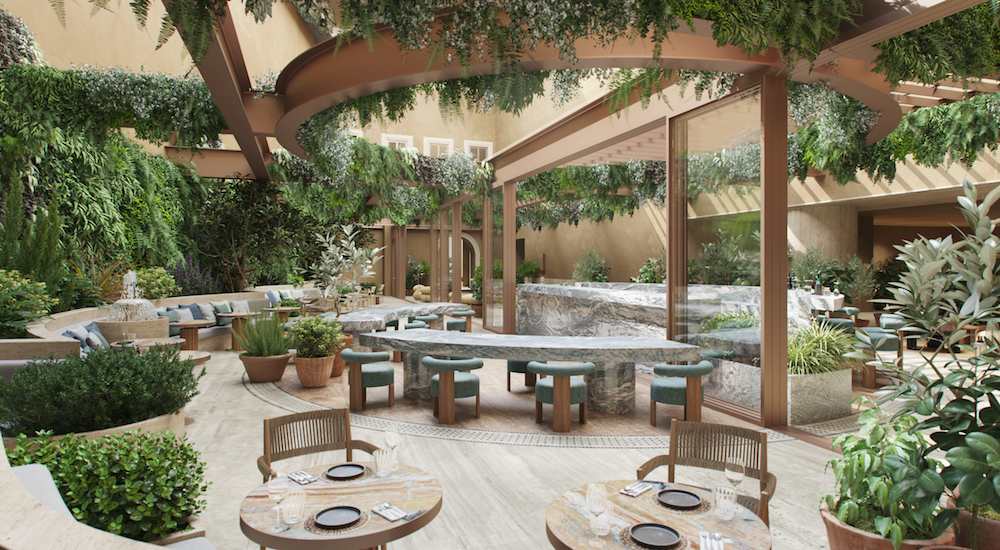 While you're there, you'll want to pay a visit to BIVIUM Restaurant-Café-Bar and the NOTOS Rooftop. The food program highlights local culinary traditions. You'll find plant-based, meat, fish, and sweet classics with Sicilian touches to honor Executive Chef Nadia Frisina's home. Breakfast offers an extensive buffet. When in Rome start your day with a maritozzi, a cream-filled brioche bun — a local specialty.
It's all about sustainability at Six Senses. While opening the hotel, the group also renovated the façade of the adjacent San Marcello al Corso Church, the first sustainability project sponsored by the hotel. During your stay you can chose to learn more about the hotel's sustainability efforts in the dedicated Earth Lab that includes interactive talks and hands-on workshops.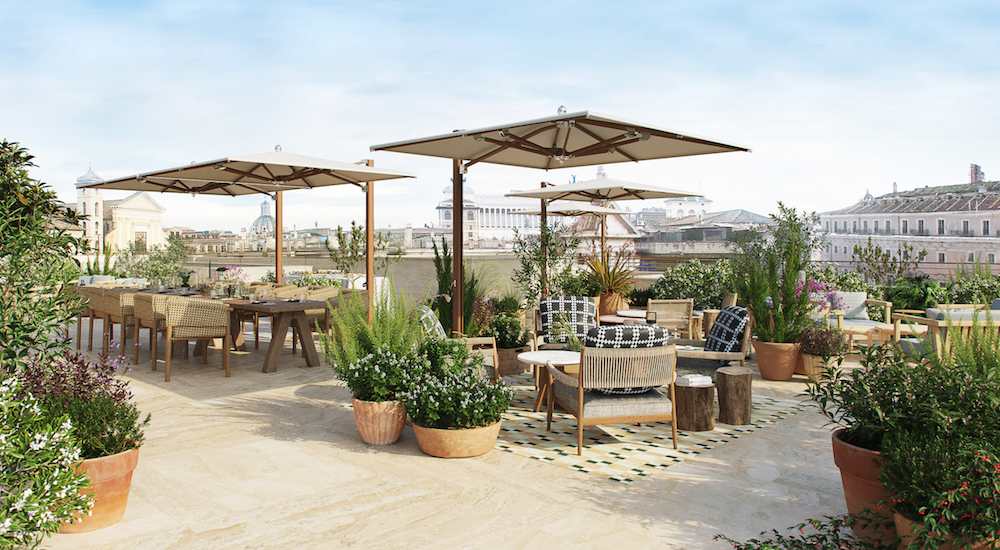 The design by architect Patricia Urquiola is also something to really take in during your stay. The use of Travertine, an abundant local resource, is a way that Six Senses pays homage to the city's storied architectural history.
The hotel also offers a sanctuary of wellness. The Roman baths are a modern-day take on the ancient ritual, reproducing the calidarium, tepidarium, and frigidarium to reduce inflammation (goodbye, jet lag!) and muscle recovery by heating the body up and then cooling it down. Spa treatments range from personalized facials to signature body massages. Wellness experts are there to guide guests with high-tech and high-touch therapies like biohacking, sound therapy, body cocoons, and breathwork. Don't miss the healing herbal Hammam and sensory immersions at the Alchemy Bar.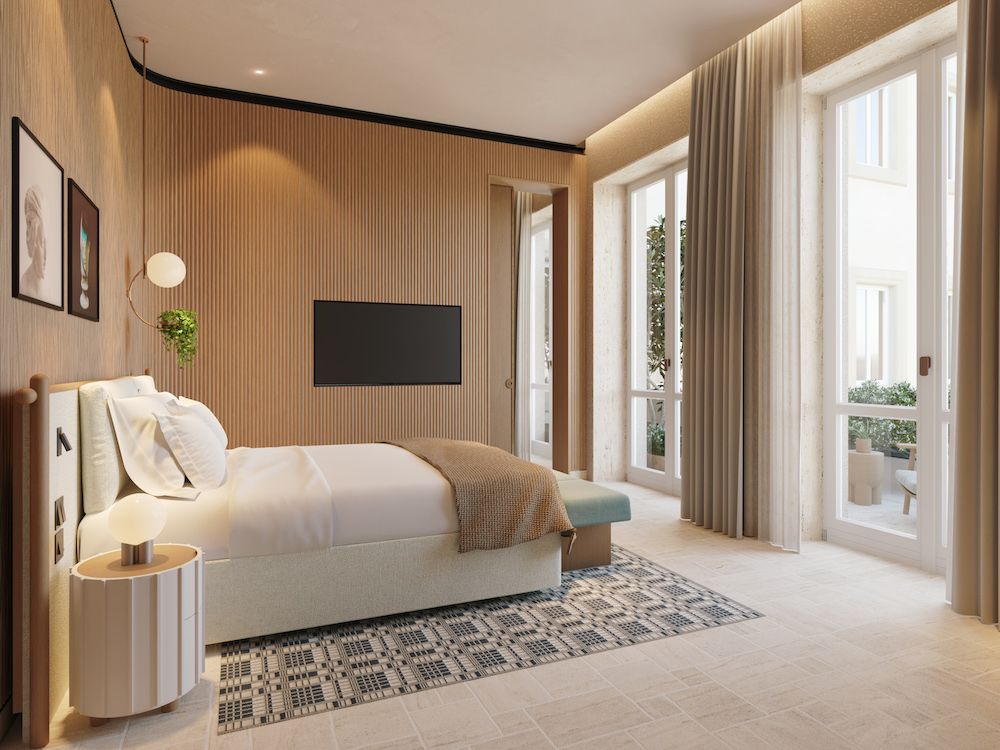 And at night you'll experience a five-star sleep in one of the hotel's 96 guest rooms and suites on homemade and organic mattresses with cotton bedding and pillows.
While you're in Rome there are many restaurants that you will want to visit. In Rome, it is all about the pasta and you'll want to try a variety. Some of our favorite spots included Mazapane, Pianostrada, Roscioli, and Colline Emiliane. An authentic dining experience is Ristorante la Campana, the oldest restaurant in Rome. For a Roman-style slice of pizza, try Bonci.
For the Michelin experience, La Pergola is the city's one three-starred restaurant. Others favorites include Aroma, Il Convivio Troiani, Giano, or Moma.
Shopping in the Monti neighborhood is also the perfect way to spend a few hours.  The area houses many independent brands and vintage shops. Try shops like NouS, Radiation Records, or MimiCa. For secondhand finds, Fabrica or King Size are great stops. And while you're there, stop for gelato at Glauco.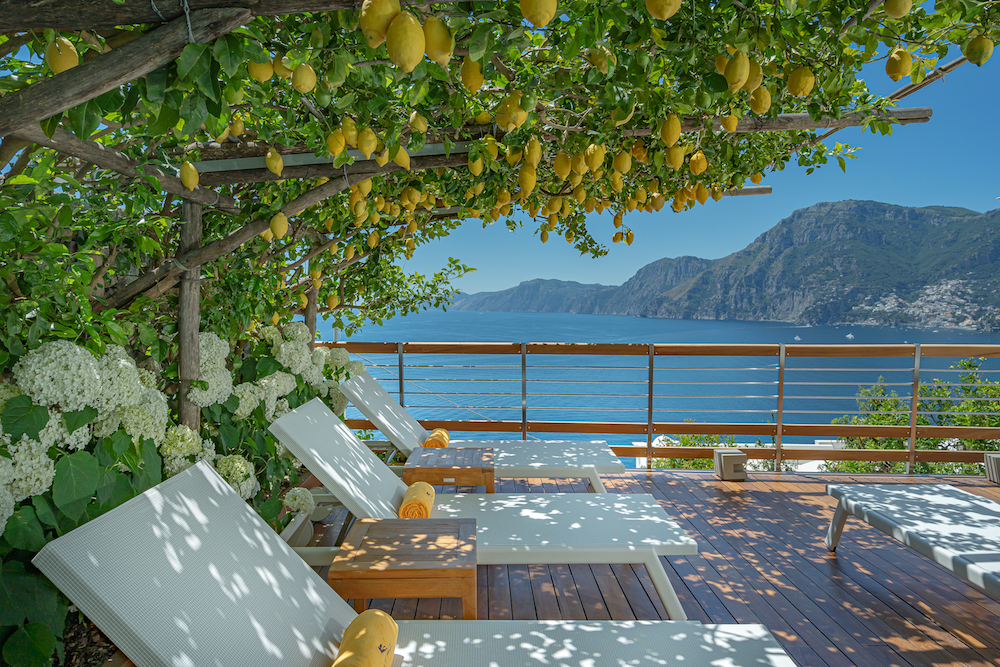 Casa Angelina
Il Dolce Far Niente… the sweetness of doing nothing. This sweetness has been perfected on the Amalfi Coast. But what you'll be doing here is not nothing. It's recharging your battery, it's enjoying fine food, it's reveling in a spectacular view that makes you feel the world is infinite. A stunning location to enjoy all of this is Casa Angelina in Praiano, a five-star hotel and member of Leading Hotels of the World.
Room amenities will put you right at home, the Jo Malone lime basil & mandarin toiletries are the perfect citrus scent for the stay. Light cashmere throws will line your bed. And the sea views of the Amalfi Coast are breathtaking. No detail in this luxury hotel is left unfinished.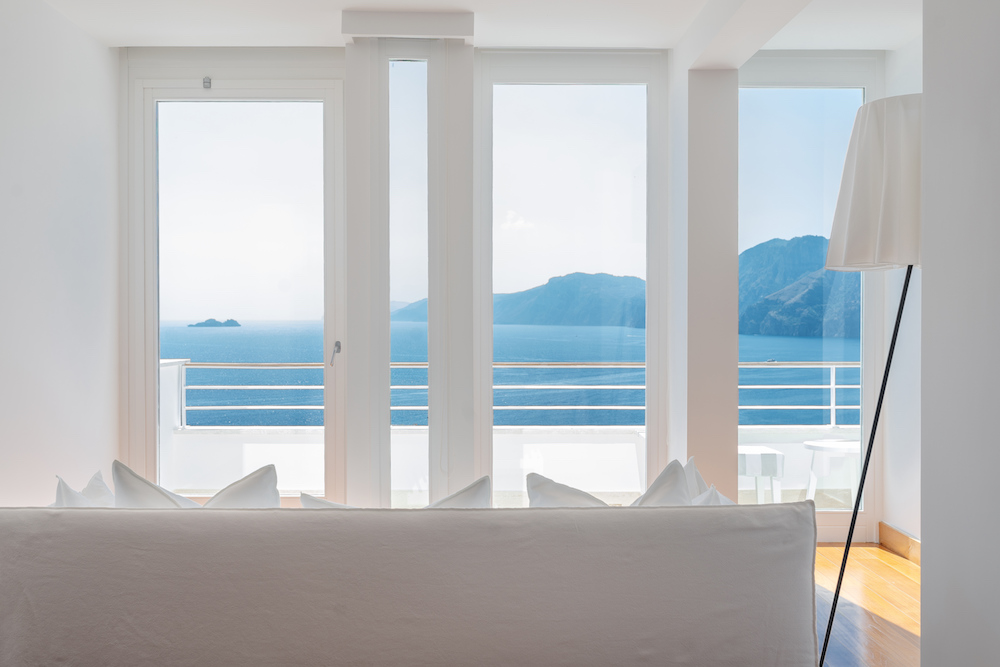 You'll want to enjoy a cocktail poolside or an aperitivo on the deck. The spritz menu is impressive with options that include a menu of Aperol spritz cocktails, all made with Casa Angelina's own Champagne. The hotel's casual dining is informal and relaxed and open from noon to midnight. The hotel's breakfast includes a sprawling buffet of the finest pastries, fruits, and savory dishes.
For fine dining, the hotel's Michelin-rated Un Piano nel Cielo is a must try. You'll experience the splendor of the terrace's unparalleled views of the sea. And the dishes created by Executive Chef Leopoldo Elefante will put you into a state of euphoria.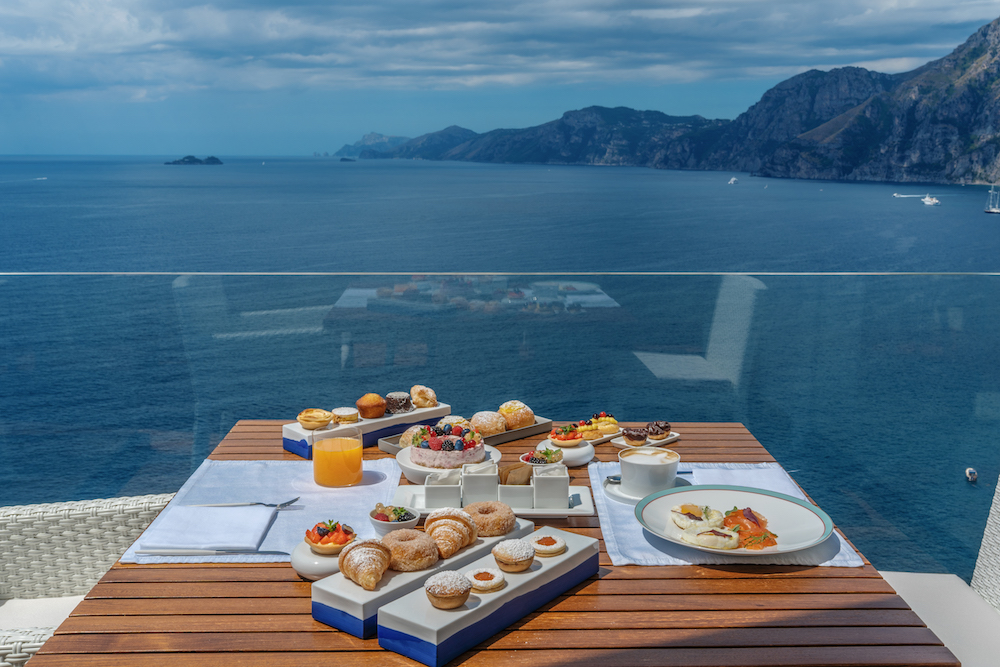 And then there are the lemons. If you've ever come across the Amalfi Coast on Instagram you've probably seen a reel for Casa Angelina's famous lemon pergola. The fruit is plentiful in the region and Praiano has it's own limoncello factory, Il Gusto Della Costa, just down the street. While you're here, you should also shop the local boutiques for linens. Linens and lemons are the way of life.
The hotel also offers a fully equipped gym, sauna, and indoor and outdoor swimming pools. You can also get your morning workout in on a trip down to La Gavitella beach. It's reachable by the hotel's elevator plus about 250 steps to the glistening seas.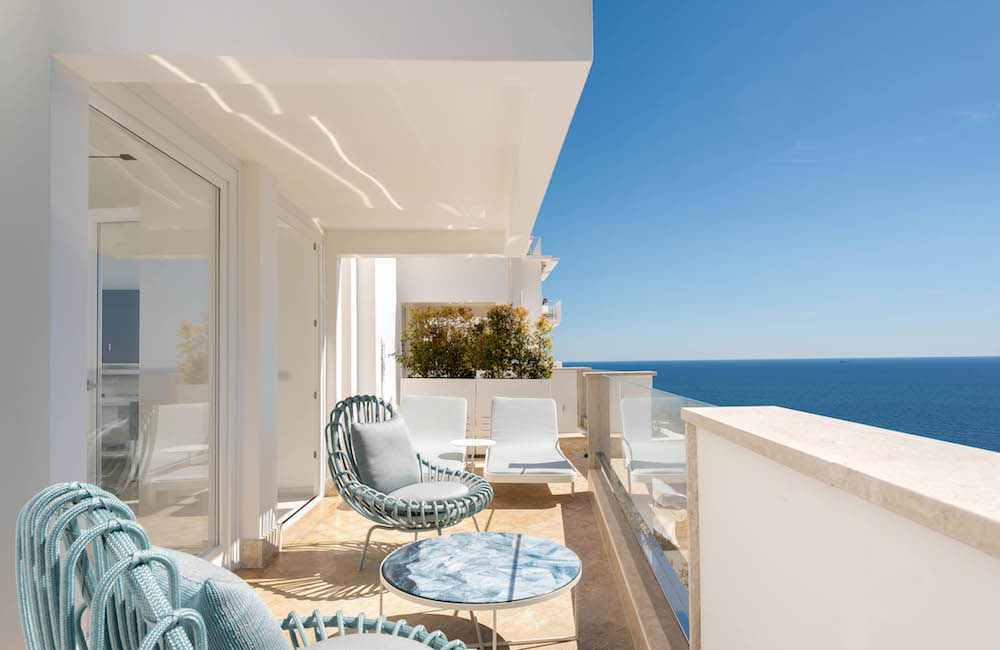 The Rooftop Terrace at Casa Angelina offers spectacular views over Positano. This space is available only for dinner for private dining experiences. These experiences include a live cooking show with the executive chef curating a menu for a small and intimate group of up to 12 guests.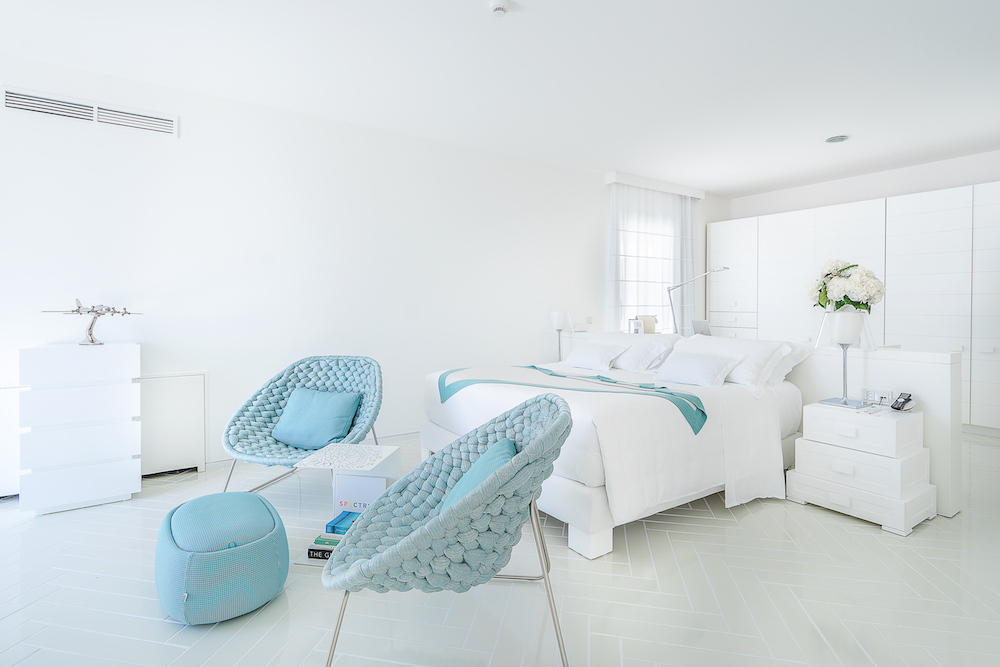 While you're in the region you'll want to visit Positano, just a few minutes drive down the winding Amalfi coastline. Casa Angelina offers a shuttle service. Once you arrive in Positano, if a day at the beach is what you're looking for it's best to reserve a chair at a beach club. Chairs are relatively inexpensive and since there is only limited space on the public beach, you'll be thankful you did.
Shopping in Positano is spectacular as so many of the artisans make their own items that are sold in boutiques that line the pedestrian streets. Beautiful linen dresses and shirts are found at shops like CB By Kore, Blitz Boutique, Boutique Rino, and La Bottega Di Brunella. 
Down at the beach, sit down to a seaside meal at Chez Black, while enjoying the view and the activity that surrounds you. Grab a gelato and stroll the seaside walk. Rada is another great options for an aperitivo. You can also visit Pupetto beach or take a boat to Ristorante Da Adolfo. For lunch or breakfast, Casa e Bottega is another excellent choice.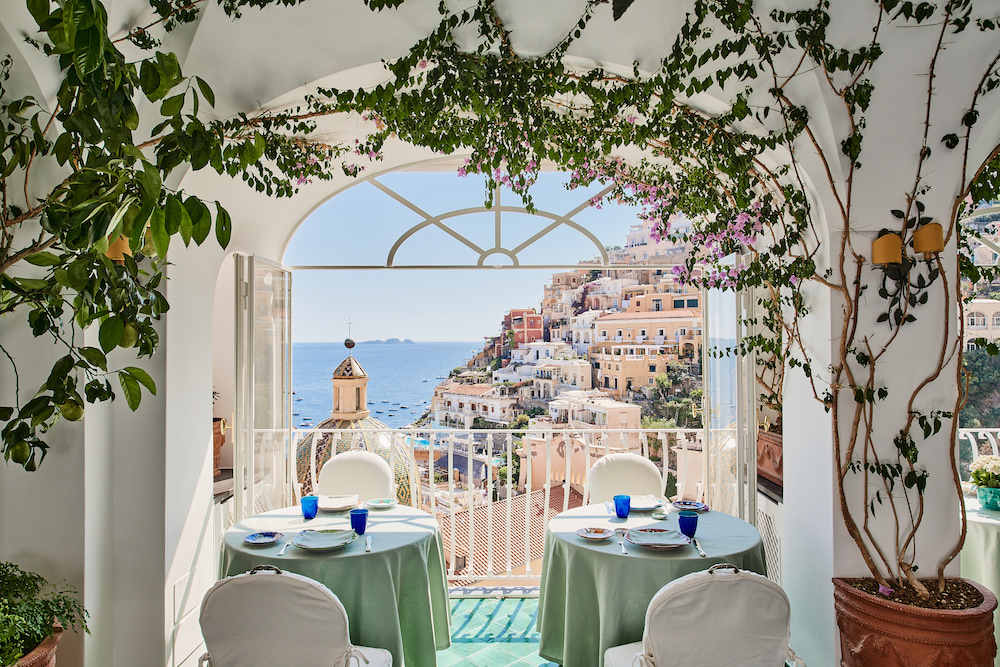 A wonderful and romantic dinner experience is at La Sponda, which is located at Le Sirenuse hotel, where more stunning views await you. Singers will serenade your table as you dine by candlelight after a day soaking in the sun.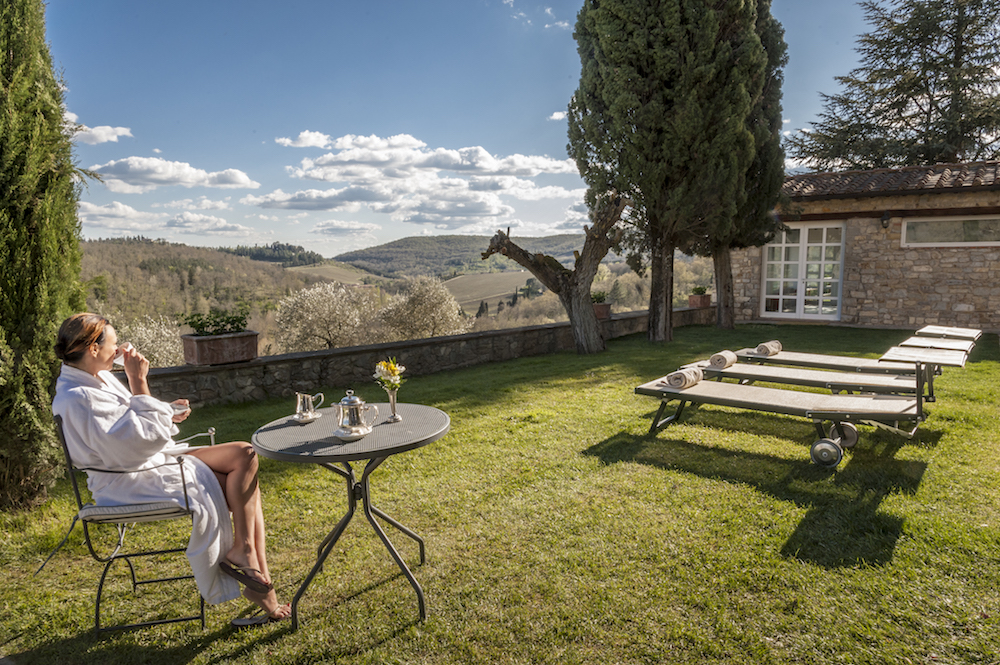 Castello Di Spaltenna
During your drive through Tuscany to Castello di Spaltenna, you'll be met with views that are as spectacular as the destination. It's best to rent a car to visit this resort, located on a breathtaking piece of earth. Sprawling hills, vineyards, olive groves, that Tuscany light. The boutique hotel can be found in Gaiole in Chianti and will enthrall you in history and wine, at a castle that will make you feel like you're living a fairy tale.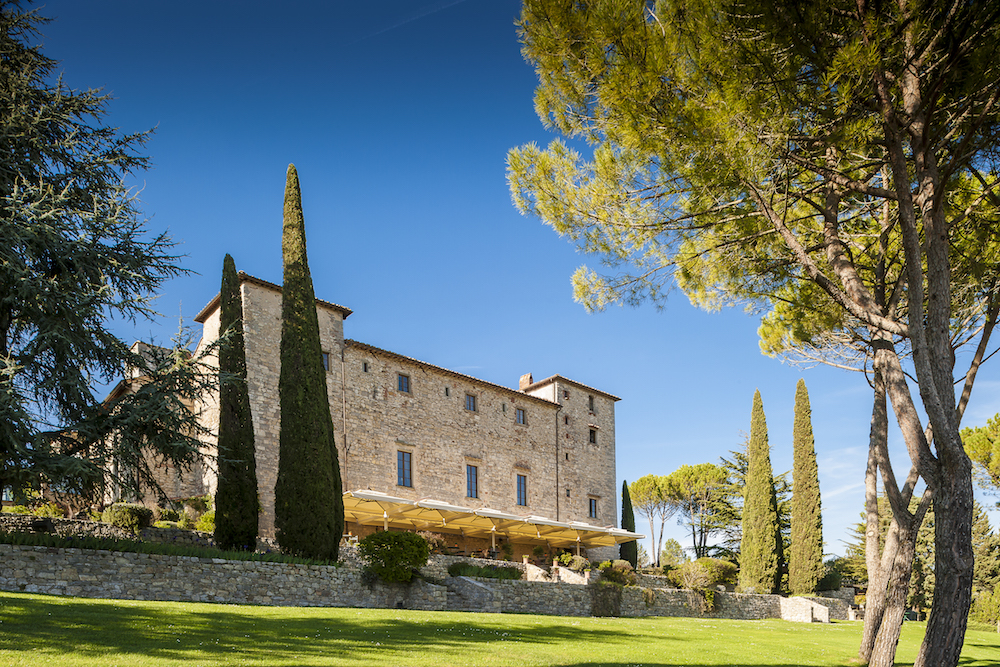 It's an area famous for its wine production, including the Chianti Classico. In the hotel, each bedroom is unique and offers Sangiovese vineyard views. Or opt for a country-style apartment with a sun-drenched terrace.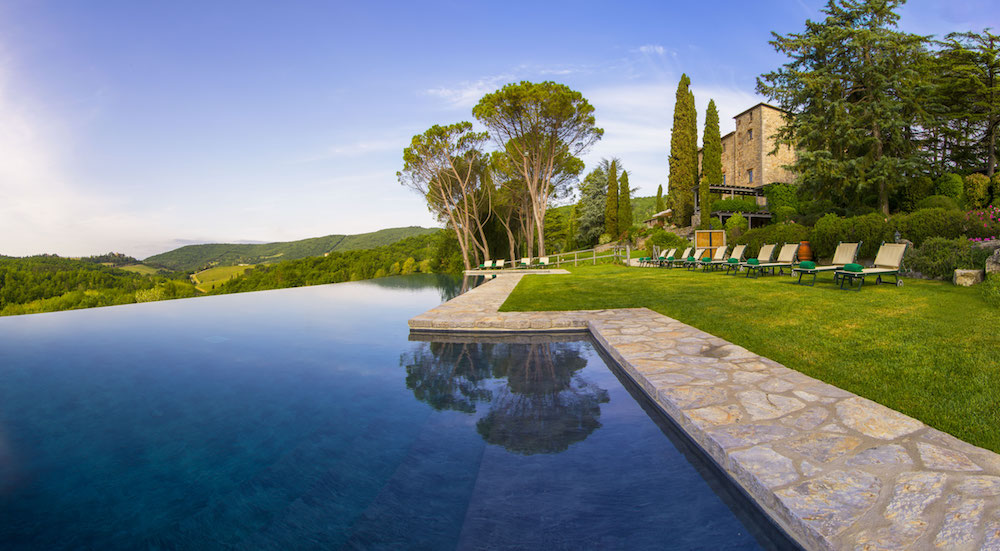 There's an indoor and outdoor pool and spaces throughout the property offer views of the astonishing natural landscape. The dining options at the resort embody Tuscany's cuisine. Executive chef Stelios Sakalis of Michelin-starred Il Pievano creates innovative interpretations of these dishes with Greek influence that offer a sensory journey.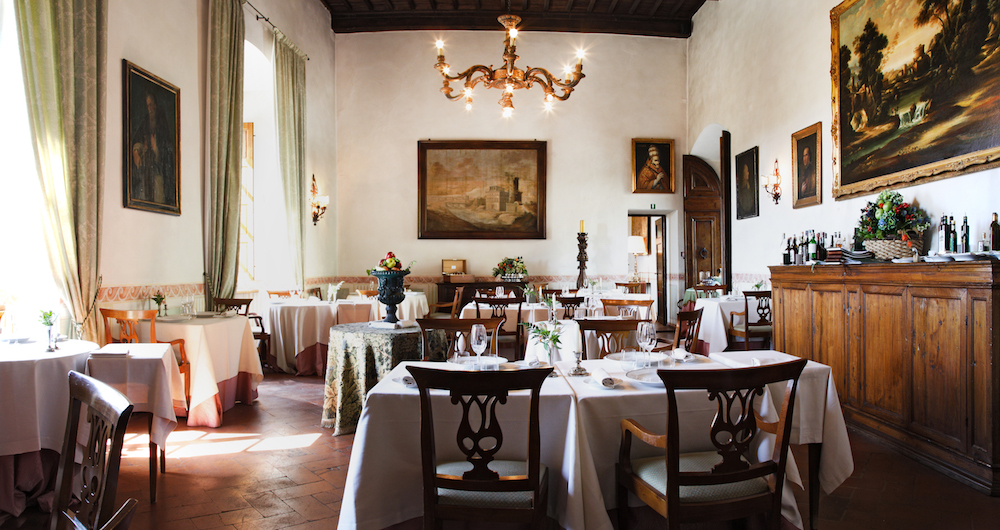 At Il Pievano there are options for different tasting menus, or you can select the menu that's blank — chef's choice.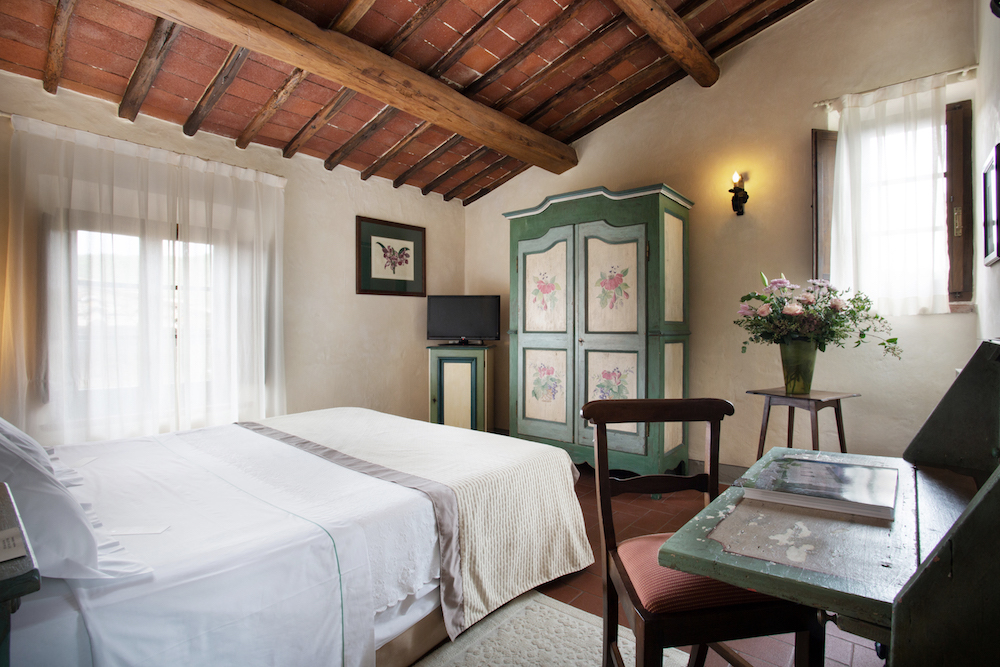 La Terazza Restaurant is located in a dramatic stone vaulted room, overlooking the vineyard. It serves as the hotel's more casual dining option. Enjoy the extensive wine or cocktail list as well — perhaps you fancy a Kir Royale?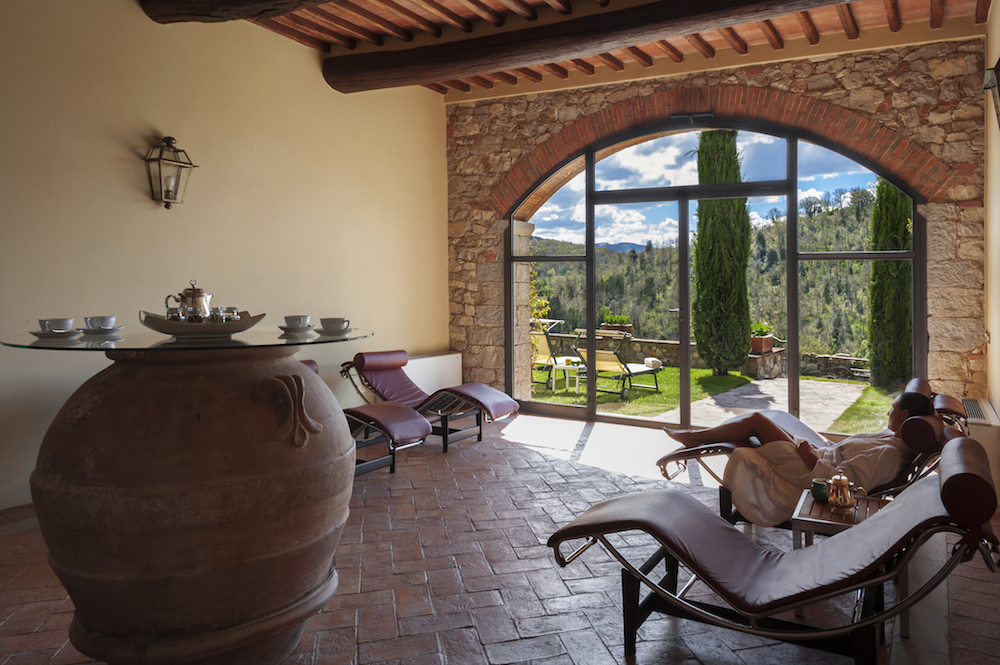 To amplify your relaxation time, La Pieve Spa at Castello di Spaltenna offers not only a peaceful backdrop but treatments like hot stone massage and Turkish baths.
While you're visiting, explore the town of Gaiole in Chianti — olive oils of Castello di Cacchiano, the cellars of Meleto Castle, the local restaurants that line the village. Or visit some of the local markets. Make sure to leave room in your luggage, there is a Dolce & Gabbana outlet close by.