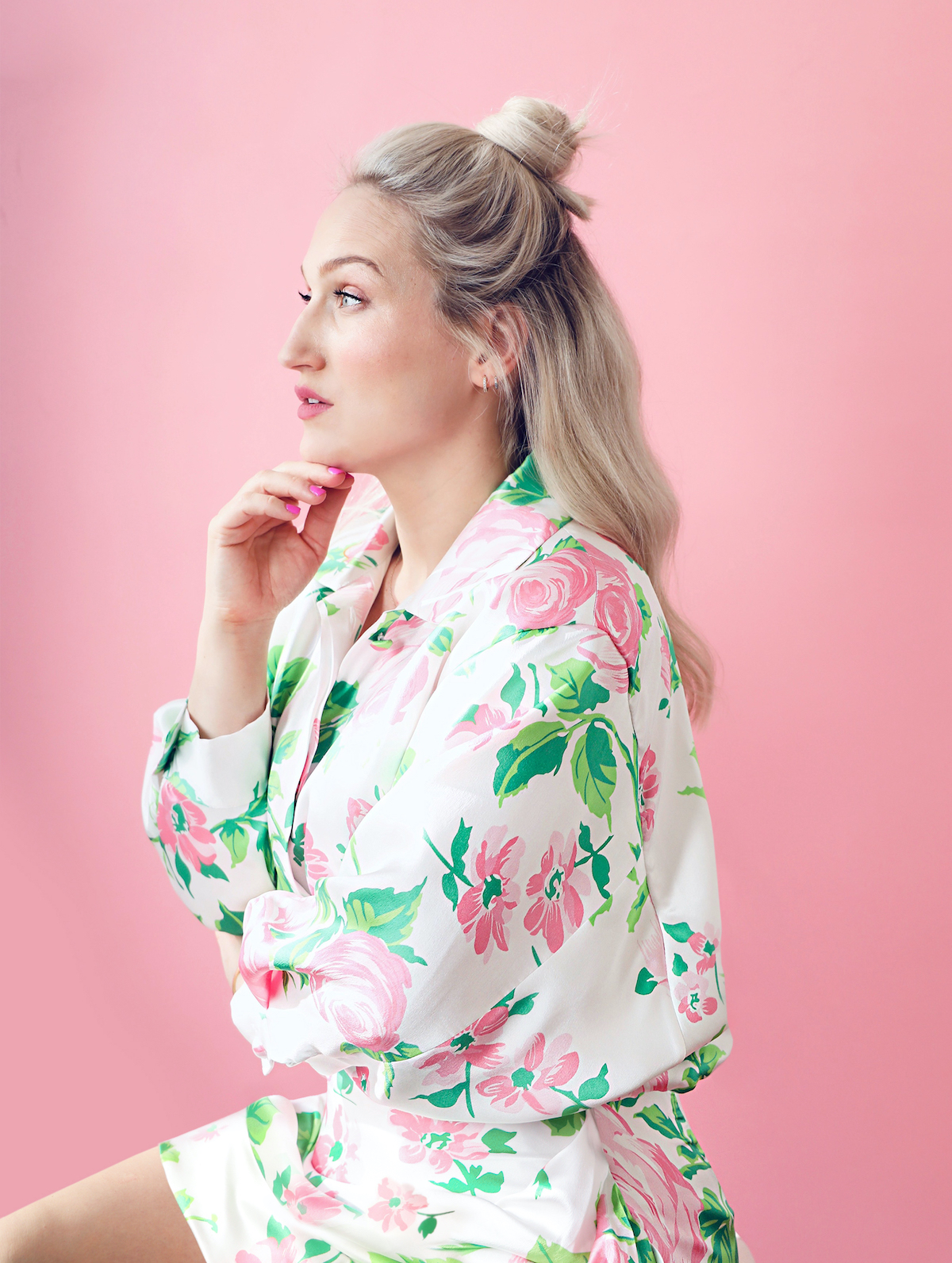 Shoe designer Sophia Webster has released her first book "Oh My Gosh, I Love Your Shoes!" to mark the 10 year anniversary of her brand. Sophia's shoes and handbag collections have been worn by the likes of Taylor Swift, Beyoncé, Oprah Winfrey, Jennifer Lopez, Kim Kardashian, Bebe Rexa, Paris Hilton, Alicia Keys, Michelle Obama, and more. She is known for the use of wing motifs in her designs, with butterfly and angel wings adorning her creations.
Her many accolades include becoming the first female shoe designer to receive the British Fashion Council/Vogue Fashion Fund. 
Sophia lives in East London with her husband Bobby Stockley, their five children, and the family's Frenchie. We spoke to the designer, who recently traveled to New York to promote her book.

Congratulations on your new book "Oh My Gosh, I Love Your Shoes!" The book includes 365 sketches that you made over the course of a year of your favorite designs from the past 10 years. Tell us a little about the process and how the idea for the book came about?
I've never been one for new year's resolutions but on New Year's Eve 2020, I did because for some time I had wanted to get back to my first love — art. That was something that was always getting pushed aside by running my business. I decided to set myself a challenge to draw my favorite shoes from my archive, creating space to do this every day for a whole year.
I created a private Instagram account as a way to chart my progress and share the drawings with close friends and family. I was racing against the clock most nights to post my sketch by midnight, I felt like Cinderella! This whole process was like rummaging through a box of old photos — each sketch brought back its own memories of life, love, the entrepreneurial rollercoaster that I've been on for the last 10 years, and all the lessons along the way. I started noting these memories down and over 50,000 words later, I had written a book.
How would you describe the evolution of your designs over the past 10 years?
I started out just wanting to express my creativity. In the year I launched, 2012, Phoebe Philo's minimalist aesthetic for Celine was de rigueur in fashion, so I was going against the grain with all my color and flamboyant story-telling on my shoes. My offer was energetic and hyper feminine, and fitted in well with the young, up-and-coming London scene — known for being a bit rebellious.
A year into the business I got married which led me to launch my bridal collection and shortly after I fell pregnant with my first child and I launched my kids collection. Becoming a mum meant things had to change at every level from how I ran my business to what I was wearing on my feet. Suddenly my mind was more focused on product categories like sneakers and espadrilles. To this day, I am still the dreamer but there's definitely a maturity to it and an awareness of what my followers love and want. Today, I design shoes with all the drama but I'll do it in a way that makes it easier to accessorize (like make it a solid color), or I'll create a dramatic heel and pair it with a simple upper.

You describe so many colorful inspirations for becoming a designer from fine art to
Nickelodeon to the Spice Girls' animal prints. Can you tell us about how you got your start as a designer and your early day inspirations?
I loved art at school and had a really inspiring art teacher called Mr. Oudu. He made me believe I could pursue a creative life after school. During a life drawing class at art college I found myself really focused on the shoes. My tutor noticed this and told me about the Cordwainers shoe design course at London College of Fashion. When I looked into it everything just clicked into place.
Butterflies have always been prevalent in your work. In the book you talk about how they are inspired by your
grandmother, a
Holocaust survivor. Can you talk about the deeper meaning of the butterflies and how they honor her through your designs?
From when I first doodled butterflies as a teen, to the conceiving of the Chiara silhouette (a sandal featuring butterfly wings at the back) at college, to launching this design commercially and them going viral — all this time I hadn't connected my grandma with my obsession with butterflies. It was only after she died and I found all these letters she'd written me covered in butterfly stickers and quotes did the penny drop. My grandma loved butterflies and she was the ultimate embodiment of them. She arrived in London as a Czech child refugee aged 8 and in order to fit in and survive she had no choice but to transform and adapt. She went on to live a very full and fulfilling life, and used her experience for the greater good by becoming a Holocaust educator at the Imperial War Museum in London after she retired from being a primary school teacher. I'd give her my handbags with butterfly motifs on and she'd never use them as they were her prized possessions.
Extraordinarily, sometime after she and my Grampi had passed, my aunt went through their belongings and found a mysterious gold watch with an inscription to one Captain Cayley Webster from the Maharajah of Johore. After some investigation we found out that he was my great-grand uncle and was an explorer who specialized in discovering new species of butterflies. These family connections to the creature only strengthen my own love of them and I will never stop being inspired by the butterfly.

You also work with the charity Butterfly
Conservation. Can you tell us about the work they do?
This amazing UK based charity helps to protect butterfly and moth populations by safe-guarding their habitats and transforming wild spaces for them. They also raise awareness by engaging the public to participate in their Big Butterfly Count to help collate invaluable data.
You did a collaboration with J.Crew early in your career. What was that experience like?
Having style legend Jenna Lyons notice my designs and then engage me to collaborate with one of America's favorite outfitters was literally a dream come true. It was a huge deal for my name to be in their catalogue when my brand was in its infancy, as millions of them used to be sent out to households across the US, massively increasing my reach. I felt so fortunate that Jenna took a chance on me, how she just follows her gut like that has always resonated with me, she's wonderfully bold.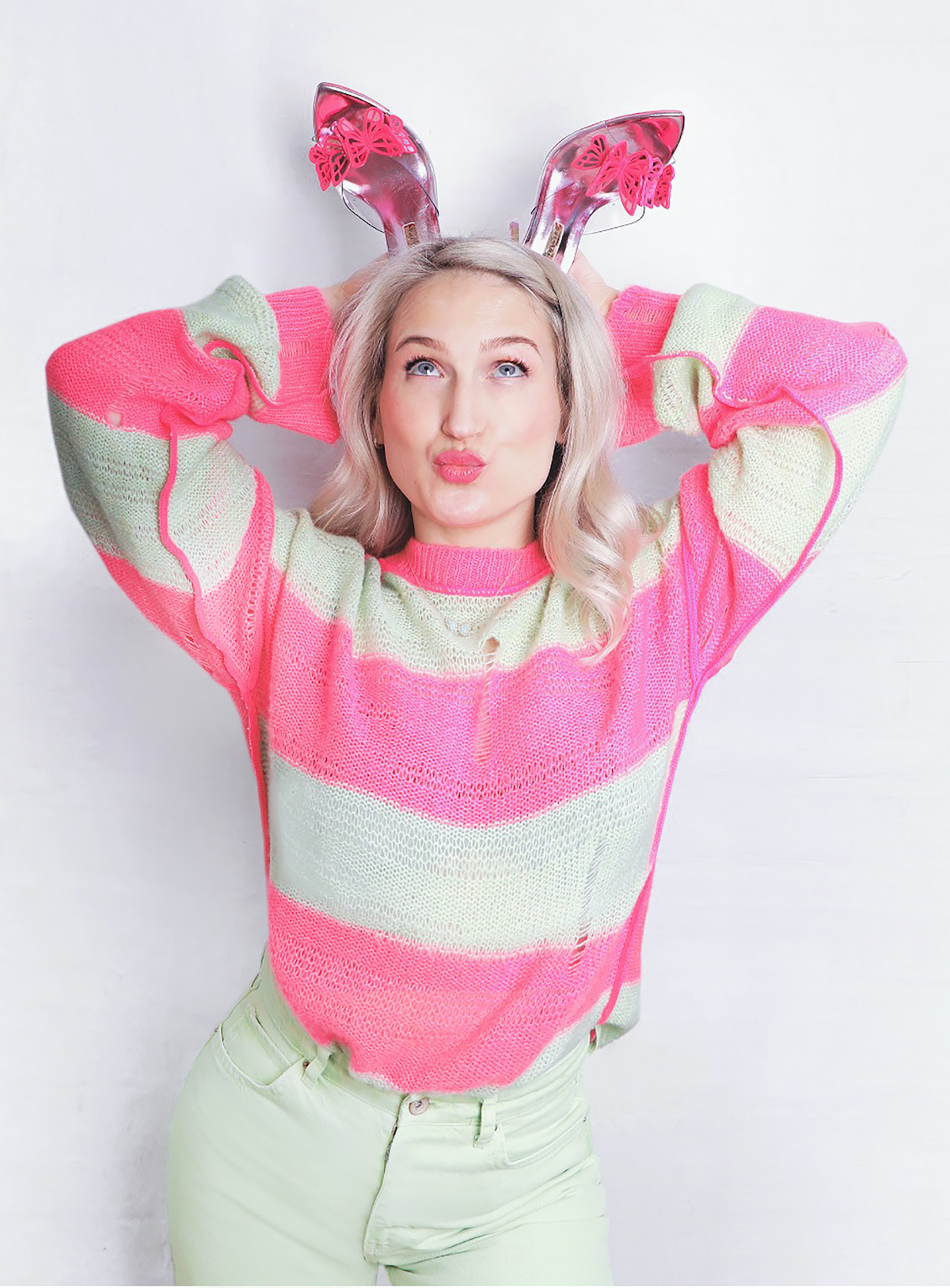 Oprah wore your Coco pumps when she gave her famous speech at the 2018 Golden Globes. How did it make you feel to be part of such a
powerful moment?
That moment is absolutely historic and I still get tingles down my spine when I hear her words, so to know she was wearing my shoes whilst she was doing it fills me with pride. As a female-founder in a male-dominated industry, the #MeToo movement resonates deeply. The shoes that she wore were donated to the Smithsonian National Museum of African American History and Culture in Washington DC for their "Watching Oprah!" exhibition, which is such an incredible honor for me.
Can you tell us a little about your upcycled
collection?
Every season I'd create prints that I adore or use really amazing materials. The factory would always save the wastage and we decided to upcycle these gorgeous fabrics by mix and matching them, creating runs of limited edition designs.
Tell us about your trip to New York City.
I'm so excited to back in the US. I haven't been here since a tour of the stores that stock my shoes in 2018! I'm here to promote my book, and excited to be doing lots of interviews and my first experience of being a guest on live morning TV!