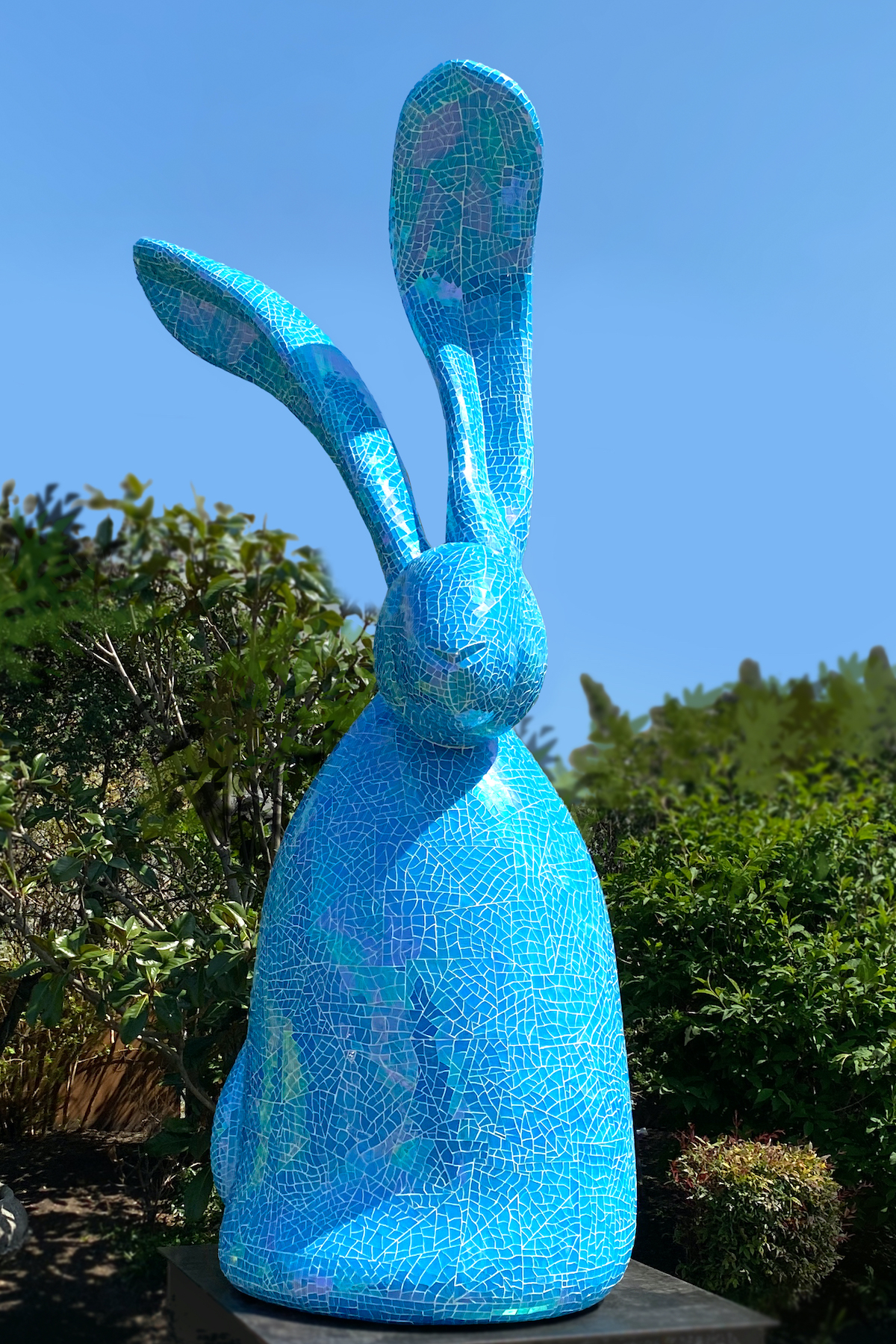 Artist Hunt Slonem was born in the year of the rabbit, just like this year. However, this is not the reason that Hunt paints bunnies. Like most characters, they manifested themselves on their own. They cleverly made their way into his paintings first by resting at a saint's feet, then slowly they jumped onto a canvas of their own and multiplied.
Hunt describes himself as blessed without conflict, he always knew who he was going to be, and as a child, he painted himself with an easel. Like Willa Cather in "My Ántonia," he sees the rhythm of the universe in the repetition of blades of grass, birds, butterflies, and now ears of bunnies. It isn't just cute, it's also serious as it is part of a mantra. Hunt focuses on ritual, mysticism, metaphysical, symbolism, and synchronicity all with a gratitude attitude. This isn't planned, it just is. He paints bunnies every morning he can. This is all part of a quasi-spiritual practice of the self-described non-category artist.
"The divine can take a form, like leaves on trees or blades of grass."
Hunt doesn't use the word manifest frequently, he uses pre-destiny but he is a student of Florence Scovel Shinn, having studied her book "The Game of Life and How To Play It." Slonem is a spiritualist who recognizes the use of repetition or rhythmically repeating words that can focus spiritual energy into creation, this centers the mind on something larger than yourself. As any physicist knows, sound has enormous power.
"Repetition is a good thing, then I can focus on the gesture and the paint and how I want to incorporate other materials and just surprises happen and it's very random and it seems to come from within."
Hunt's canvas sometimes is space itself, meaning he surrounds himself with oversized monochromatic rooms filled with things he loves. Here he lets the divine take form not only in his art but in his everyday habitat. There, Gothic revival furniture lives, animals and gardens flourish. These things are an amalgamation of the sultry air of Louisiana, Mexico, and Hawaii, along with the jungles of Nicaragua, all places he has called home. His Hell's Kitchen home, once a stark white building, is now filled with collections. It's hollowed out in its center so that you can peer down from above into the depths of his creations. Out of seven homes to choose from he calls this place home. The building is alive as it is part office, part aviary with tropical birds, part terrarium with orchids, part artist's studio, and a home. The birds became sort of a self-funded charity that happened by accident, as friends gifted them to him when they could no longer take care of them. Now Slonem has fewer birds than before as they were sent to an organization that has better medical care.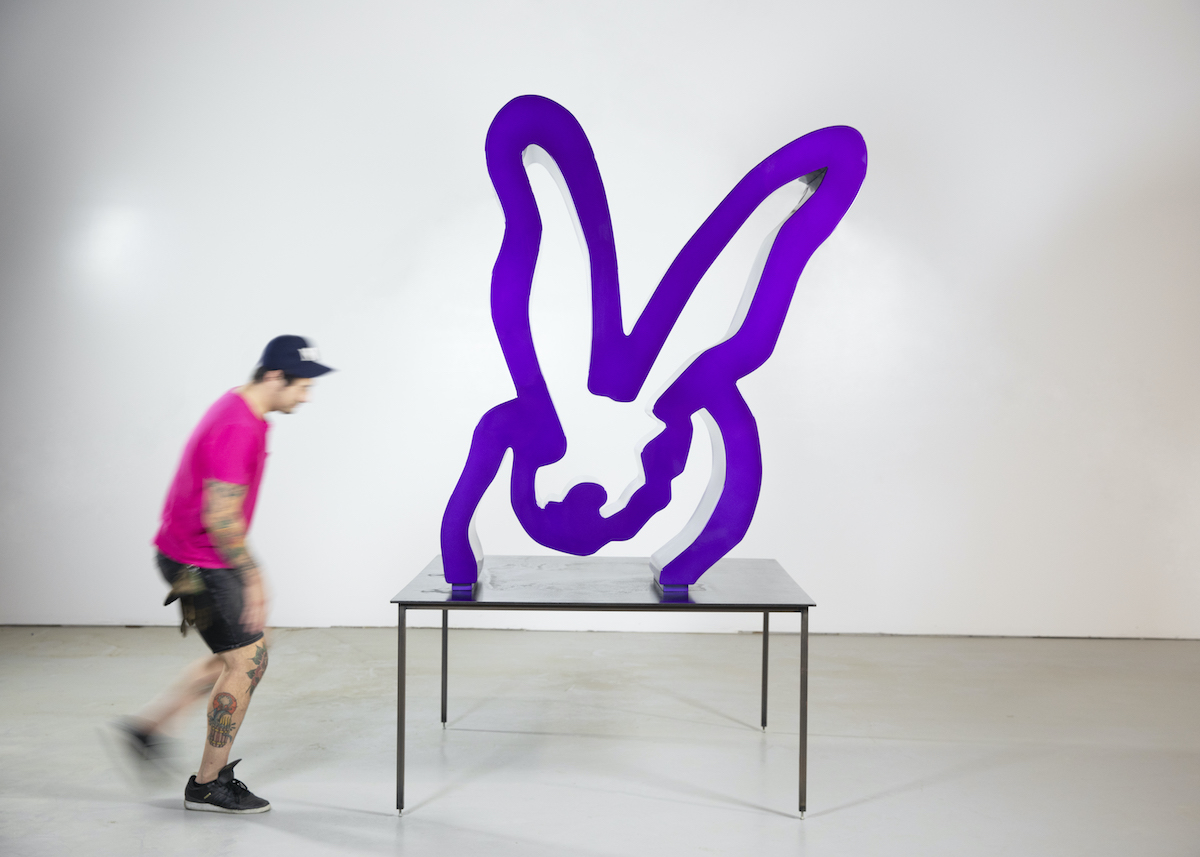 Slonem also collects homes. They are all historic homes, including an armory. The bigger and the older the home the better. He coveted all his homes before he owned them. They were manifested.
He would call his psychic to tell them about a dwelling and she would say, "You already own it."
And one day he did. Slonem lives in his own manifested fairytale. Slonem has his work in over 250 museums worldwide. Now, he is concentrating on a new manifestation, his larger-than-life bunny sculptures and other macro-art forms.
You stated that art is a spiritual practice, a ritual, something that you follow, not
something that you
invent. Do you feel that art finds you? Is it
something that manifests itself? 
Art finds me from within, I feel that everything is a channeled process. I can't say what's going to happen from day-to-day. I wake up really early in the morning and breathe deeply and sort of know what I'm going to do for the day and get in tune with that and other obligations. But I never really plan anything. Changes in my work are very spontaneous and come from all over and from every corner of the universe, travel, and materials given or discovered.
You recite mantras while painting, what are some of these mantras? 
A lot of different ones, Hindu and Christian ones.
Do you believe that your pieces are healing? 
I don't believe… I only know what a lot of people tell me. There is a lot of joy in their life because of it. Women who are pregnant buy my work and hang it in front of the baby when it's born.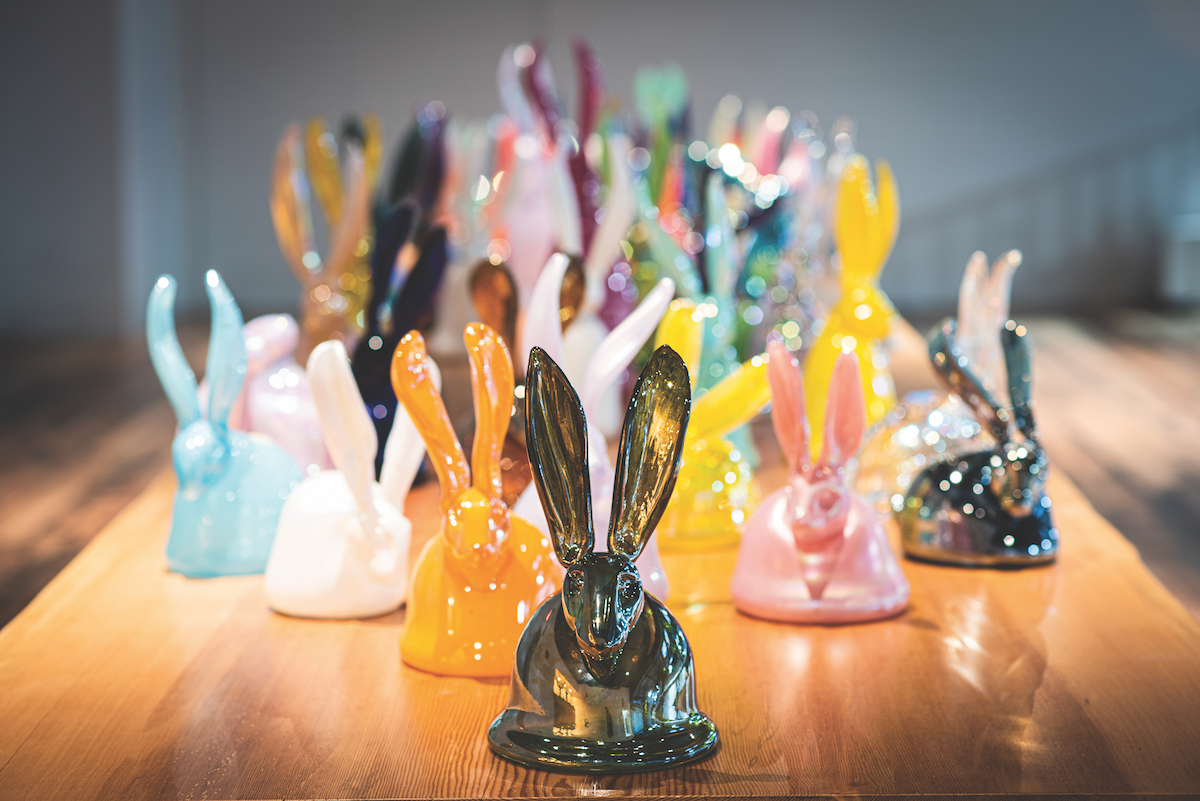 They make me happy, so I thought that they may be healing. They remind me to be grateful. 
Even at the worst moment, if you count all of the things that you forget. We are just so fortunate, it's unbelievable. It's all great. I've been going to St. Patrick's every day from the house. The more you go the more it reveals it's spiritual quality. I really get a lot out of it. I even go before I go out. It's wildly impressive but it's a such privilege to have it close. It's a great way to resonate and clear up some daily stuff.
You seem to have a
gratitude attitude. Would you describe yourself that way? 
I was told that gratitude is what sustains success. I think we all take things for granted. Even on our worst days, there is something to be grateful for. What a time we live in. The last few years have been hard and full of hard-to-process events… But I see everything as a blessing in disguise or not always disguised.
Would you say your spiritual side comes from your grandparents? 
It comes from the universe, I can't attribute it to one thing… It wasn't forced on me. I grew up in a lot of places and I was in Hawaii as a kid and I was around all kinds of spiritual things. One of the thrills of being on this planet is nature.
Which is your favorite home? 
I like them all equally or I wouldn't be involved. They are amazing, or I wouldn't be involved. I'm most involved with the most recent one, my castle in Great Barrington. It's taking up a lot of my time and consciousness. The changes have been very rapid and it's been wonderful. The one before is still exciting, as we are working on the outside. There are always projects and developments. I collect things constantly wherever I go and it's fun to work with those things. Then it enters into my work and installation projects in museums. I like the idea of the artist's environment as part of the work, the whole, "the whole experience" are words that they have been using a lot to describe what I do.
Where is the Gothic
furniture going to live?
Most of the Gothic is in the homes, I have some really good pieces, at the castle, the Armory, and Louisiana. The Armory is big.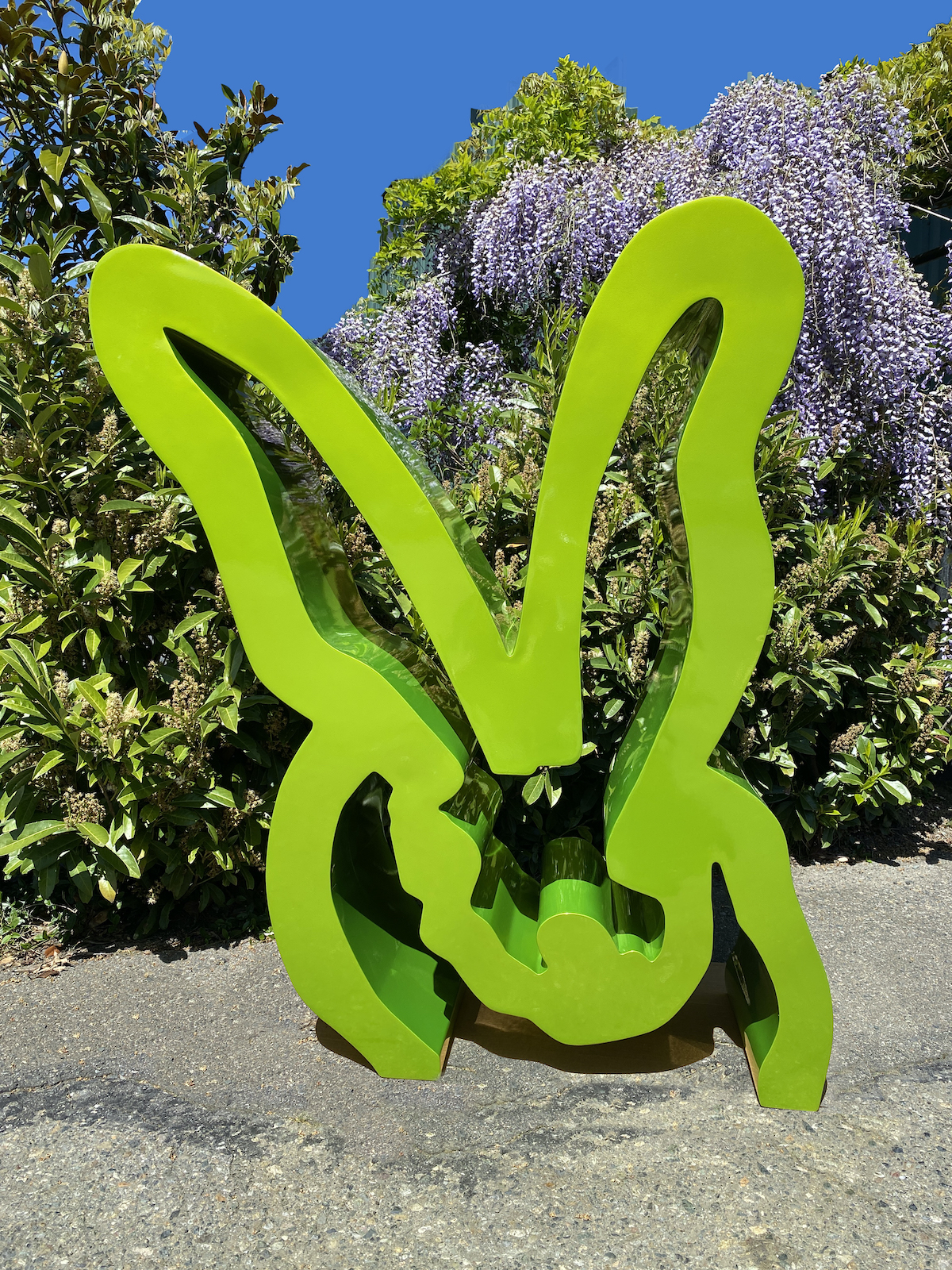 Can you tell me about the eye of Panaman?
I call them guardian paintings. I had monkeys as pets for many years. You can't own them anymore. I had many. Shanti was one, I can't remember the other names, it's been so long ago. Lots of people used to have them, it was fairly common. They weren't hard to acquire. They are very difficult to maintain. Birds are a little bit easier than monkeys who move a lot and getting their diet right is hard. They have all the worst qualities of humans. One would steal my paintbrushes and run all over the house with them, knocking things off the wall that I just restored. They were cute. They had a little ball with a bell in it and if I rang it they would come jump onto my shoulders. They would take women's jewelry off of them and run. They loved my hedgehog, they would get on my shoulders and pet my hedgehog.
How many birds do you have now? 
I'm down to eight but I was up to 100. When I moved [to Hell's Kitchen] I had to pair down quite a bit. Now they are in a wonderful sanctuary [in New Jersey], in the fact the owner was coming here [to care for my birds] and has the best medical facility. One of my ancient birds was blind and they made it see again, through an operation. They provide a level of medical care that I don't have access to.
What are you working on now and what are things in the past that stand out? 
I'm starting to do sculpture, glass, mosaics, light boxes, and cast bronze. A very large installation will be at the St. Antonio Botanical Gardens. Twenty-two-foot-mozaic sculptures. The title of my new book is called "Spirited Homes." I have 15 books so far. I have works in Vienna, Hamburg, London, Houston, Dallas, Naples Florida. I love doing large-scale installations. I had an 80' piece in the World Trade Center and a huge piece in the Bryant Park Grille. I have pieces in the Hamilton in Washington, the Rothco in Latvia at the National Gallery, Lithuania, Kazakhstan, St. Petersburg, Ukraine, and palaces in Kieve, Odesa.
What do you do when you relax?
I work with healers, meditate, and I have a lymphatic person come. I love to paint. I love to work or spend time at my homes.
Are you planning on purchasing homes in
Europe? Since they are on the scale that you like? 
I don't like to travel but I have traveled extensively. It's been a weird and interesting last couple of years.