HamptonsFilm announced today that the 29th edition of the Hamptons International Film Festival will take place October 7 to 13 with live and in-person events and screenings across the Hamptons. The festival will open on Thursday, October 7, with the World Premiere of  Academy Award-nominated director Matthew Heineman's "The First Wave,"  a documentary feature spotlighting the everyday heroes inside one of the country's hardest hit hospitals at the epicenter of the Covid-19 pandemic as they come together to fight one of the greatest threats the world has ever encountered.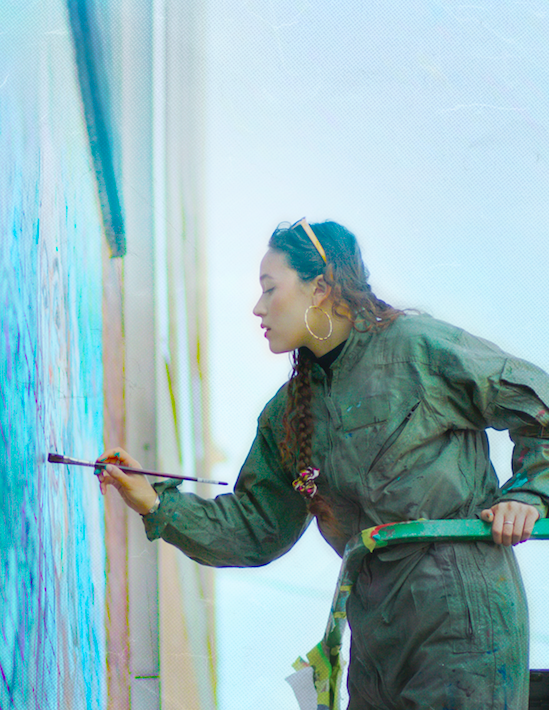 As part of HIFF's Signature Program Views from Long Island, supported by Suffolk County Film Commission, HIFF will feature the World Premiere of Kelcey Edwards' "The Art of Making It." The documentary follows a diverse cast of young artists at defining moments in their careers as they explore whether the art world ecosystem meant to nurture them is actually failing them.
Screening as part of the festival's Conflict and Resolution section, JR's "Paper & Glue"  features world renowned artist JR (Academy Award nominee for "Faces, Places") turning the camera on his own work as he builds some of his monumental projects. Academy Award-nominated filmmaker Liz Garbus' "Becoming Cousteau," which will hold its New York Premiere as part of the Air, Land & Sea section, takes an inside look at legendary explorer Jacques-Yves Cousteau and his life, career, and mission to protect the Earth. Garth De Bruno Austin's "The Last Horns of Africa," which will have its East Coast Premiere as a part of the Compassion, Justice and Animal Rights section, features gripping and never-before-captured footage of  the current rhino poaching war raging across Africa.
"Oscar-nominated filmmaker Matthew Heineman has made a stunning film highlighting not only the resilience of the human spirit, but the selflessness of healthcare workers who risk their own lives to keep us safe. We are honored to open our 29th edition with the world premiere of his film, which succeeds at exploring the gravity of a historic moment through his intimate style of filmmaking," said HamptonsFilm Artistic Director David Nugent. "We are also thrilled to announce a strong group of films screening as a part of our Signature Programs — including films by local artists as well as those wrestling with the issue of the sanctity of our planet and the lives of the animals with whom we share it."
The festival also announced the poster artist for the 2021 edition will be local East End artist and HIFF co-founder and founding Chairman of the Board, Toni Ross' "Finding Beauty in a Dark Place." Created over a span of eight months, from 2020 to 2021, "Finding Beauty" consists of fifty-two individual weavings of wool, cotton, linen, and silk, assembled as one. This piece charts the course of the Covid-19 virus throughout the United States. From Maine to Alaska, measuring eighteen feet in length, "Finding Beauty" speaks to an inherent duality in the daily graphing of the virus. The elegant nature of the graphs belies the pain, fear, and sadness wrought by the virus. However, their graphic beauty highlights the contrasts within our country, offering an appreciation for the gift of time in slow motion.
Previous festival poster artists include Bastienne Schmidt (2020), Lee Krasner (2019), Patton Miller (2018), Eric Fischl (2017), John Alexander (2016), Bruce Weber (2011), Julian Schnabel (2001), April Gornik (1995, 2005), Cindy Sherman (2006) and Donald Sultan (1996), among others.
"Especially this year, we are excited to bring together our film-loving community to celebrate the art of film and storytelling. We are also elated to announce our 2021 poster artist is our very own founder, Toni Ross, renowned artist, East Ender, restaurateur and recipient of the 2019 HIFF Dick Cavett Artistic Champion Award," said Anne Chaisson, Executive Director of HamptonsFilm. "Toni meticulously created this new piece throughout the Pandemic to commemorate and reflect on our shared experience. I am forever grateful for her generosity."
HamptonsFilm will take enhanced safety measures for the 29th edition in accordance with Covid-19 regulations across the state. Attendees will be required to show proof of vaccination for all in-person events, and will be required to wear masks.
"HamptonsFilm holds the safety of our guests, filmmakers, and staff as our highest priority, and is closely monitoring any and all changes to New York State and Suffolk County health guidelines," said a statement.
Passes will be on sale after Labor Day. Additional information on HamptonsFilm's year-round programming, SummerDocs and Free Outdoor Summer Screenings In Herrick Park can be found on the website. Visit www.hamptonsfilmfest.org.