Founder Kristin Sheeler started NIBI-MTK following her years at Ralph Lauren leading the color, print, and pattern division. What started as swimwear and a series of pop-ups has grown to include three storefronts located in Montauk, Bridgehampton, and Westhampton.
Tell us about your background in fashion. You led Ralph Lauren's color, print, and pattern division?
Yes, I led Ralph Lauren's color, print, and pattern division for many years. I graduated from Syracuse University with a BFA in textile design and after a couple years developing prints with Schumacher & Co I was so excited to get my first opportunity at Ralph Lauren. I spent three years at Ralph as a print stylist then jumped to Adrienne Vittadini to direct creative development of their print lines. That was a great experience which really finished setting me up for my return to Ralph Lauren. I returned to take on color, print, and pattern and loved everything about it — the design, print development, quality control, everything. Of course, I already knew the Ralph aesthetic and had grown my talents but now I was developing in a new way. While running the division I was traveling to the mills to confirm strike-offs and production quality so frequently that I ended up spending a lot of time in Asia and Indonesia; it was great for me personally and professionally. Spending so much time around some of the world's most beautiful beaches while focusing on technical production details for the lines I oversaw started to fuse the aesthetic that Ralph is known for with the simple yet beautiful designs I was finding around the world. I was always inspired by Bali and back in the '90s was so untouched and beautiful. It really shaped my sense of style and how I design to this day. 
I continued with Ralph for several years adding responsibilities such as vintage and continued to discover additional lens and layers of design. Eventually I moved on and did creative and concept work for Victoria's Secret, then did the initial concept design for the launch of Abercrombie's new Gilly Hicks line. I was sent to Australia to live and to create the handwriting for the new concept. (Everyone at A&F spent two years calling me "Gilly.") And then did creative direction at several brands including senior director at Aéropostale and finally Senior VP of creative direction for Delia's. All those stops continued to add layers, depth, and dimension to my design eye.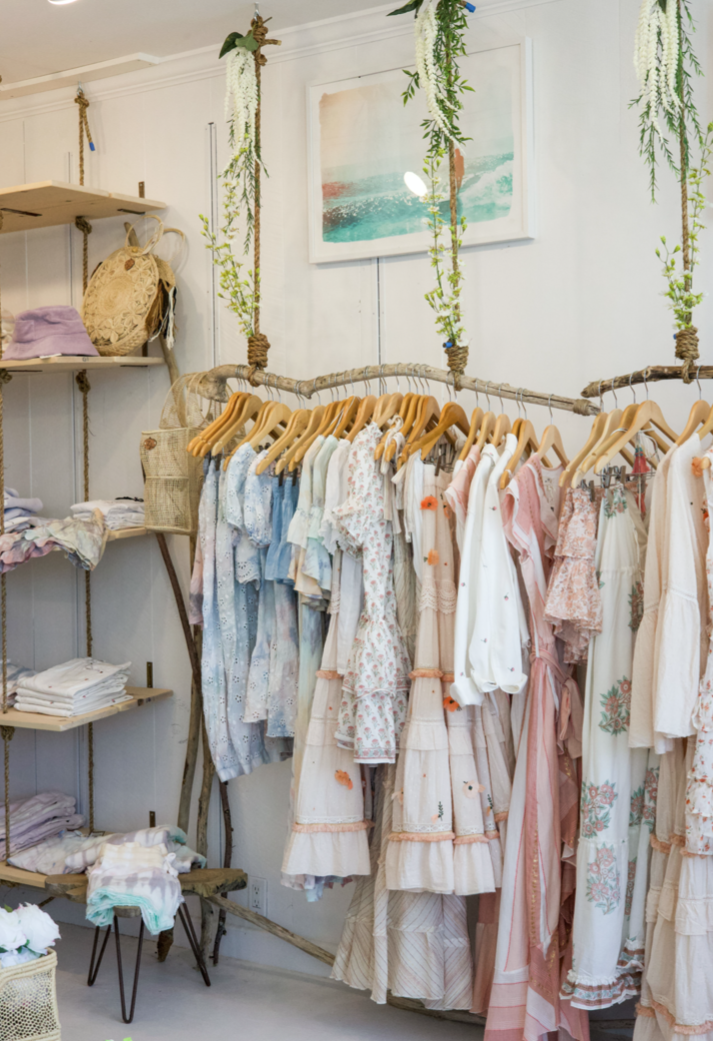 Did you always know you wanted to be a designer?
I have always been interested in art and as a young girl I loved to paint and design. So yes, I knew from an early age that some kind of artistic design was my path. I originally started college with a graphics focus but quickly fell in love with textile design and switched my major to align with the passion I had found and never looked back. I was an art history minor and really felt that print and pattern was just another form of art where the canvas was fabric. I still absolutely love that aspect of textile design.
When did you first come to Montauk?
We used to come infrequently with Ralph Lauren for various events but 1997 is the first time I remember being here with enough time to see the town and be on the beaches. I instantly fell in love with this town — I felt like it was the most magical place on earth. I remember sitting on the beach in Ditch Plains saying I wanted to live here one day. There were so many creative people who lived out here at that time and we all just loved how inspiring this town was and how we all could just get away from New York City and be free.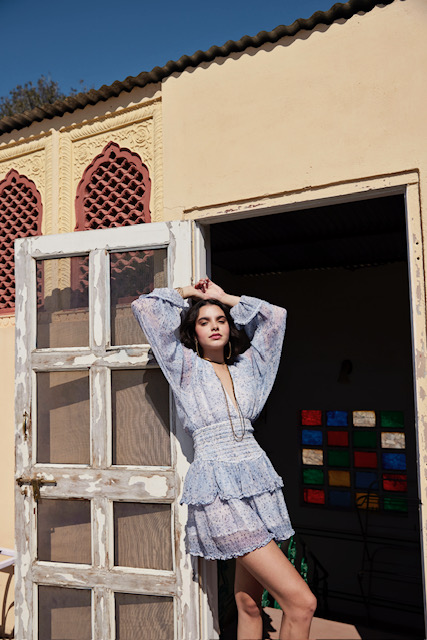 And how did the town inspire you?
The town was just so amazing — the sunsets, the landscapes, and the colors as the day progressed from dawn to dusk. I also loved how laid back everyone was, yet at the same time so stoked after a surf session. That excitement captured me, and I just needed to become a surfer and continue to take in everything Montauk was offering. I picked up a long board, got in the water, and never looked back. The surf culture that was here at that time was amazing — the vibe, the fashion, the attitude all inspired me. 
Can you tell us about the early days of NIBI-MTK and how you grew the brand?
In late 2013 I was realizing I couldn't fully satisfy my creative drive through established brands.  I took some time off to re-focus and immersed myself full-time in Montauk. I loved the collision of peaceful quietude and explosive energy that had been growing in Montauk and fully embraced the atmosphere. After a couple months of contemplation and meetings in an attempt to start a concept consulting business I realized something more organic is what I needed to do. The idea to start a swim line hit me like a lightning bolt. The town had surf shops and t-shirt/hoodie shops with a couple of clothing stores but no fashion womens beachwear. I started designing with a passion and drive I hadn't had for years and within six weeks I had developed the NIBI-MTK swim line.
2014 was a season of pop-ups all over the East End testing the brand — I actually felt like I had become a traveling pop-up show. I was friends with so many of the local businesses and they would let me pop up at the hotels, restaurants, or put designs in the local surf shops. However, it was totally worth it — at every event the NIBI-MTK tent was swarmed with people.  "Unique," "Finally," "Where have you been?" were comments I heard over and over. It was astounding! Throughout the summer I continued to add items to the "tent" — jewelry, accessories, etc. I remember saying that our customers were like butterflies, they just needed something pretty to draw them in and they would fly in… and they did.
As the recognition grew we did a couple pop-ups in the same hotel with great outcomes that impressed the property's forward-thinking manager. Over the winter he convinced the owners to explore the changes starting in Montauk and allow him to open a boutique and an art gallery on the property for the 2015 summer season and he asked NIBI to be the boutique. We launched at the hotel (The Atlantic Terrace) in spring 2015 and quickly became the hidden gem that needed to be found. We created an indoor-outdoor space with higher end beach fashion.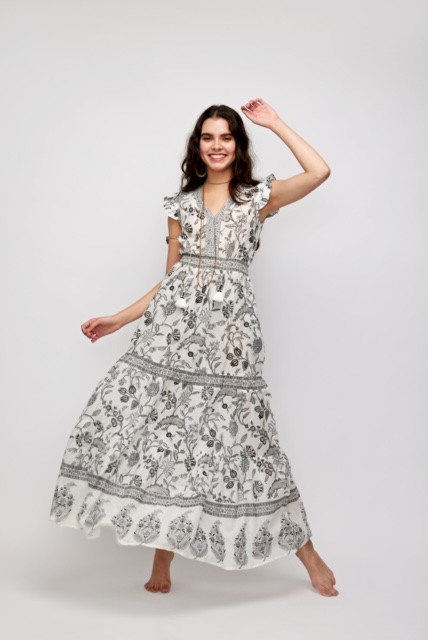 Tell us about the concept for NIBI-MTK today.
NIBI continues to be the place for barefoot boho luxury and a place that casual beach meets Hamptons style. With my experience as a concept designer and trend forecaster I am always looking at what's coming and trying to push the NIBI-MTK look to the front and trend forward.  We are always on or slightly ahead of trend and my customers appreciate that they are getting things ahead of the masses. My concept around my brand is to make each woman feel very unique, empowered, and special. The fabrics I use and the colors I create for all my print designs are worked on until I feel the colors are perfect. I also try to curate the design collection so you always feel like you are by the sea and since I am designing and manufacturing the line myself, I am able to provide unique designs and true hand-blocked fashion. I always want everyone to feel so special and I only create 30 pieces of each design run. This is also distributed to three locations and the women love that you do not see the same dress everywhere out in the Hamptons. 
Talk about your store
 

locations throughout the Hamptons.

While we of course stayed consistent in our layout and strive to ensure every customer has a consistent experience, each location definitely has a slightly unique vibe. The Montauk location was the original and hums with energy every day, unless it's a beach day. Montauk is my home and really has a boho inspired feel. The second location, Bridgehampton, thrives off of the quieter sophistication of the town yet doesn't miss a beat on a great summer weekend. The women of Bridgehampton love the mix we offer from a day at the beach or an evening event where they can always find a perfect NIBI dress. Westhampton, our newest location at only three seasons old, has a vibe that is perfectly matched to the rejuvenated Westhampton Beach town. We decided to open in Westhampton as we felt the town needed our beachy vibe designs and they love to also have special designs for events and dinner parties. 

Bridgehampton and Westhampton remain open year round while Montauk closes for a few months over the winter while we use that location to stage the next year's designs. I think the most impressive aspect of the stores is the symmetry of how each supports the other and how well they all perform together. We love that customers can shop any of the stores and have a great experience and that we have a great geographic distribution that supports our customers from the western edges of the Hamptons all the way to "The End."
What is your go-to look for summer?
I love to wear things that are flowy, breezy, and casual yet with style. I spent years with Ralph living out of a suitcase or backpack in Indonesia and grew to love a day-to-night look which captured a style and luxury that was manageable, practical, and in-style.  That day-to-night aspect and boho chic style has remained an important aspect of my personal style and my brand aesthetic.
What's next for you and the brand?
So much! We are always looking for the next great location to open a new store and have feelers in a few warmer, winter locations where we can capitalize on an extended summer vibe.  But even more exciting are the results of the trial wholesale work we've done recently. We are currently working on building the team to support a much larger wholesale operation and expect to be moving much more actively into the wholesale market over the next couple seasons. We are always being asked "Why is this not in my town!?" and we want to dress all our amazing strong, boho chic women.