My family looks forward to our excursions to the North Fork since we're on the South Fork year-round. Cruising on the Sag Harbor and Shelter Island ferries reminds us of how lucky we are to be surrounded by water and live on the beautiful East End. Mattituck's Love Lane is three blocks long, but its real center is a one-block stretch from Main Road to Pike Street. Over a dozen small businesses reside on this one block, many woman-owned, offering everything from cheese to candy, from flowers to local wine. 
We ate our way through our recent trip to Love Lane, starting with a variety dozen at North Fork Doughnut Co. Then we grabbed paninis for lunch at Lombardi's Love Lane Market and chocolates at Love Lane Sweet Shoppe. On our way home we picked up a "Barely Buzzed" and "Honeybee Goat Gouda" from The Village Cheese Shop for our evening cheese platter. Mattituck is a wonderful community and Love Lane is a great stop to support local small businesses.

North Fork
Doughnut Co. 
About: North Fork Doughnut Co. is a small family-owned doughnut shop, operated by husband and wife Jimmy and Kelly Lyons. They have 10-14 different flavors daily.
Most Popular: Caramel Coffee Cake, Jelly, and Strawberry Frosted.
Fun Fact: Their doughnuts are about 2 to 3x larger than most other doughnuts.
What makes them unique: They make their yeast doughnuts fresh daily, and they create all the flavor in house.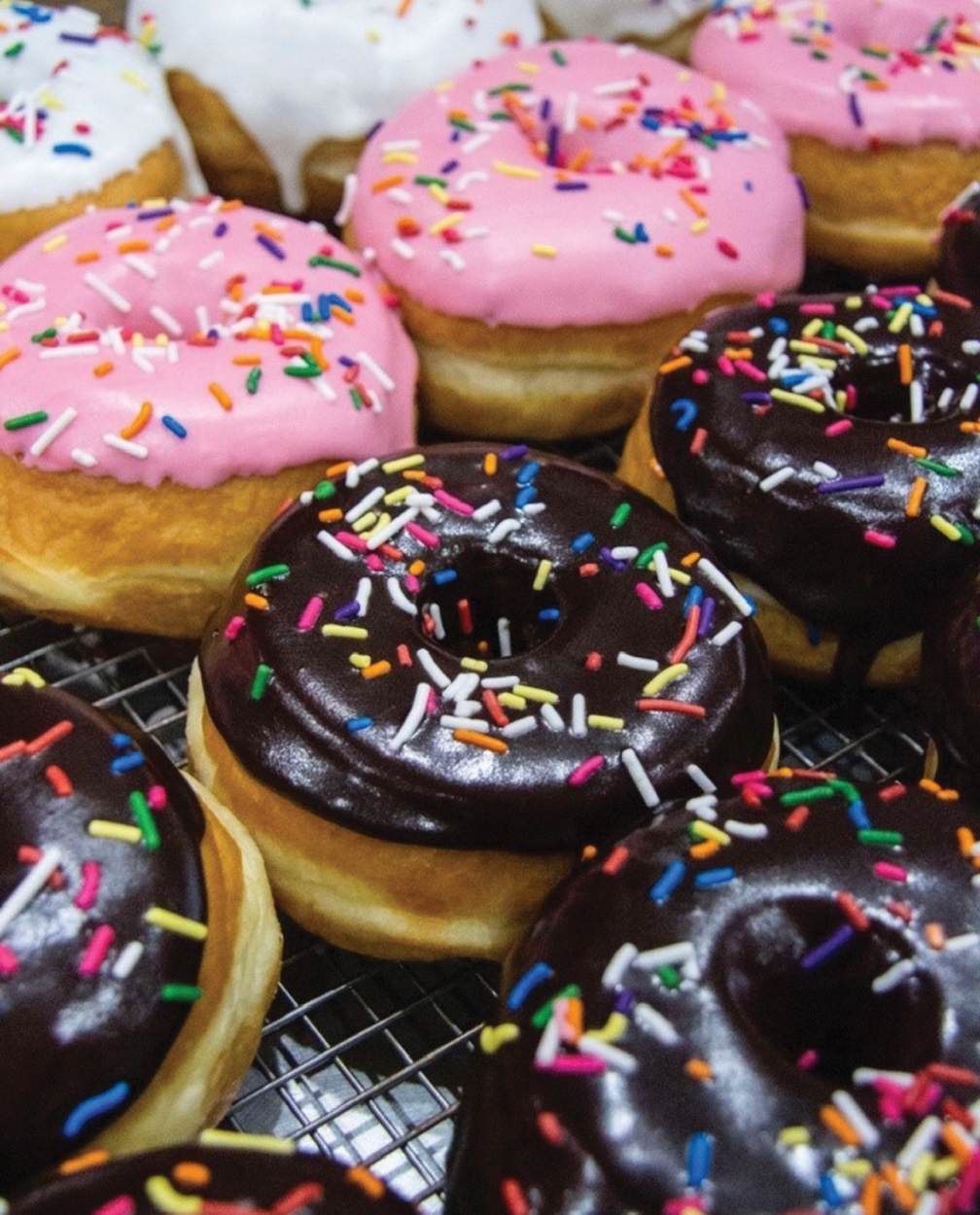 Giving back: Nofodoco participates in charity work throughout the year and is always giving back to their community. Doughnuts left over at the end of the day are donated to homeless shelters on the North Fork.
Locations: 100 Love Lane, Mattituck & 5 E. Main Street, Bay Shore
Website: nofodoco.com
Instagram: @nofodoco

Love Lane Sweet Shoppe
About: Love Lane Sweet Shoppe offers a wide variety of vintage candy, gummies, and seasonal candy items. They feature Asher's Chocolates and have a selection of gourmet food products from Stonewall Kitchen, Republic of Tea, and Really Good Jams made in Cutchogue. 
Most Popular: The store's most popular items are its chocolate and candy. North Fork clothing and gift items are next in terms of popularity.
Fun Fact: Love Lane Sweet Shoppe has been on Love Lane for 32 years. It opened in 1989 and was originally where Roanoke Winery was located. It has been in its current location since 1999.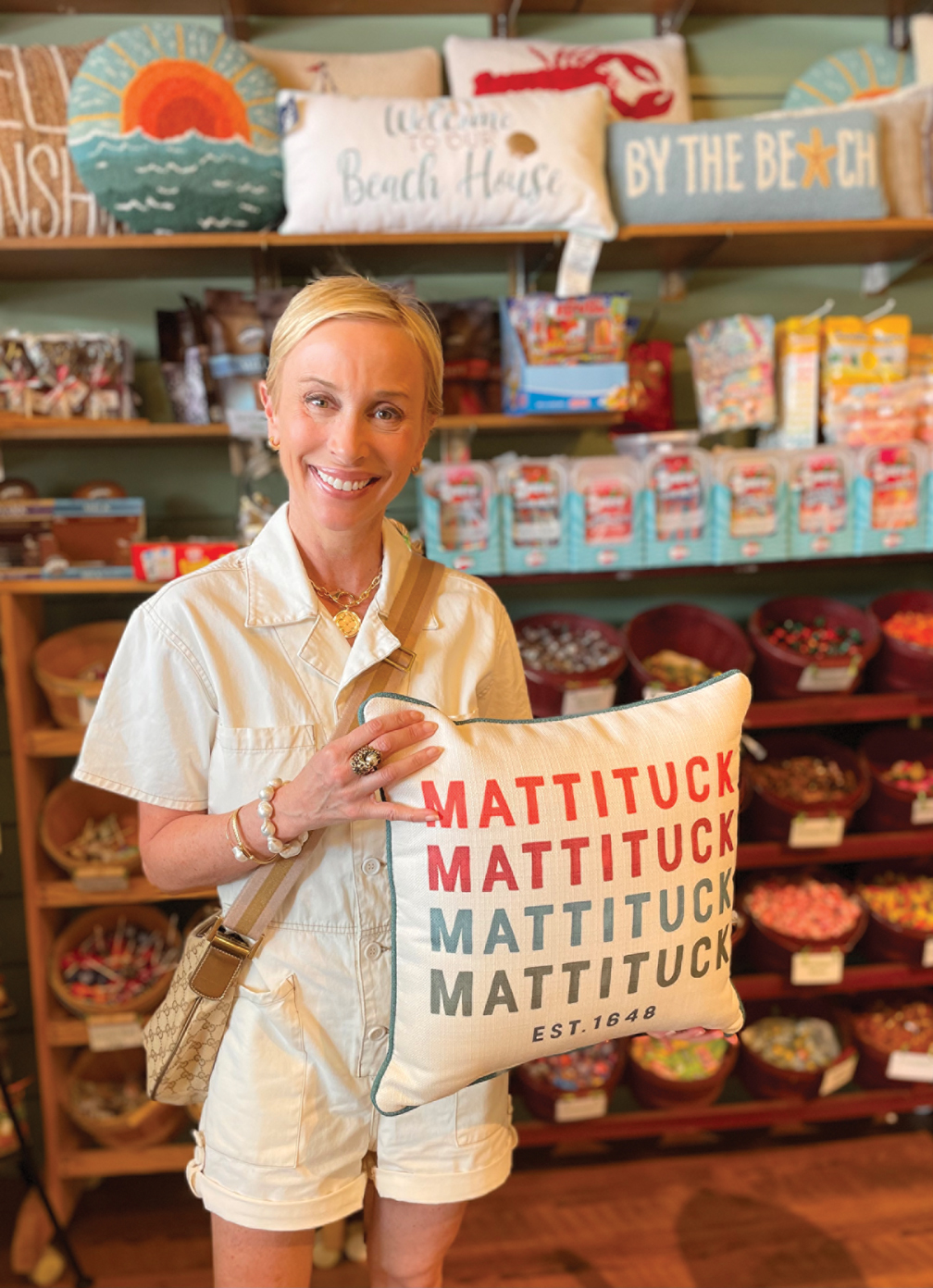 What makes them unique: Love Lane Sweet Shoppe is always evolving with the seasons, and they make a total transformation for each holiday. Each time you visit the store it has a fresh look with new merchandise. However, they always have the staples that their customers know and love year-round.
Giving back: Owners Ashley and Chelsea both grew up in Mattituck and now raise their children in this community that they love. Supporting their local schools, churches, libraries, and organizations is very important to them.
Location: 125 Love Lane, Mattituck 
Website: lovelanesweets.com
Instagram: @lovelanesweets

Lombardi's Love Lane Market 
About: Lombardi's Love Lane Market is in the heart of the North Fork on Love Lane. They are committed to the pleasure of simple, rustic, and delicious foods. Keeping in the North Fork tradition, they source from local farms when preparing their family's old-world, Italian recipes. 
Most Popular: Their most popular items include house-made fresh mozzarella, wood-fired pizza, pressed paninis, gourmet sandwiches, small batch tomato sauce, and prepared foods to-go. Their local items such as Jamesport Sourdough Bread, North Fork Flower Farm Bouquets, and Browder's Birds Eggs are always a favorite. They also specialize in boutique catering with an emphasis on all things being local, beautiful, and seasonal.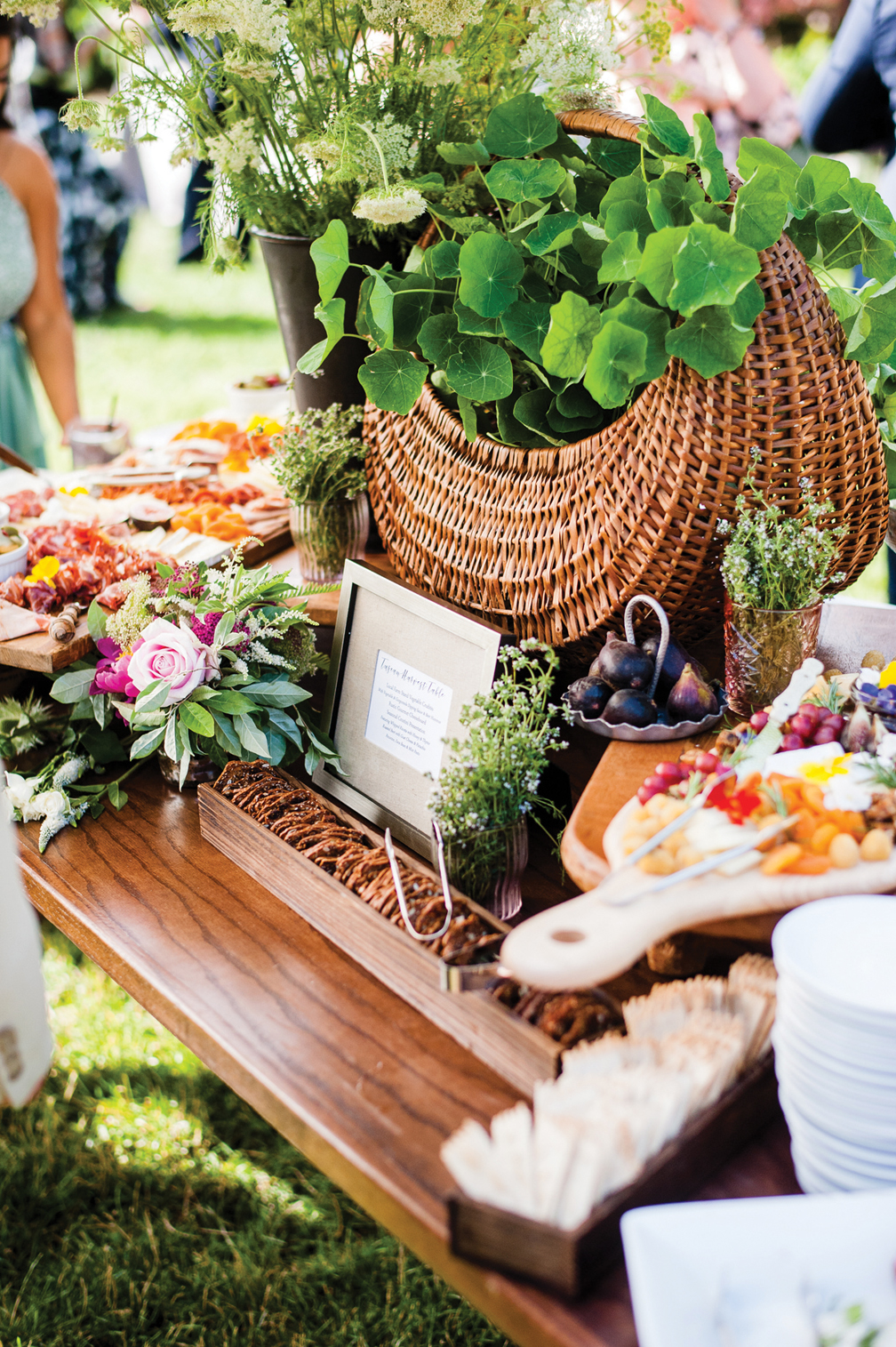 Fun Fact: Lombardi's Love Lane Market is one of the many women-owned businesses on Love Lane.
What makes them unique: Lombardi's is right near the beautiful surrounding vineyards of the North Fork, and they have a special relationship with these neighbors. Collaborating and catering with the vineyards allows visitors of the North Fork to enjoy their delicious food, warm hospitality, and the local wine. 
Giving back: They support CAST (Community Action Southold Town, Inc.) and various community programs. The North Fork is a tightknit community, and many are gracious to lend a hand to those in need.  
Location: 170 Love Lane, Mattituck
Website: lombardislovelanemarket.com
Instagram: @lombardislovelanemarket & @lombardislovelaneweddings

The Village
 

Cheese Shop

About: Founded in 2001, The Village Cheese Shop remains Long Island's number one destination for serious cheese enthusiasts, attracting clients weekly from as far as Nassau County. A large part of their activity is custom cheese boards starting at $100, as well as gift baskets starting at $75. They offer a wide range of local artisanal products and are a trusted destination for serious food enthusiasts. The Village Cheese Shop delivers!

Most Popular: Délice de Bourgogne Triple-Crème, Catapano's Chèvre from the local dairy farm, and an assortment of Dutch Goudas.

Fun Fact: All their employees are professional chefs or serious cooks. They travel regularly to visit producers, as far away as France. The Village Cheese Shop offers "sidewalk café" fondue service and a variety of wines. They've become a destination for fine Osetra Caviar. 

What makes them unique: The Village Cheese Shop's customer service is top notch and they have built a solid, loyal customer base that includes celebrities too. They conduct tastings and seminars off-premises and deliver as far away as Brooklyn. They ship nationwide including Hawaii and San Juan. They have three full-time food artists, and their platters are wonderful.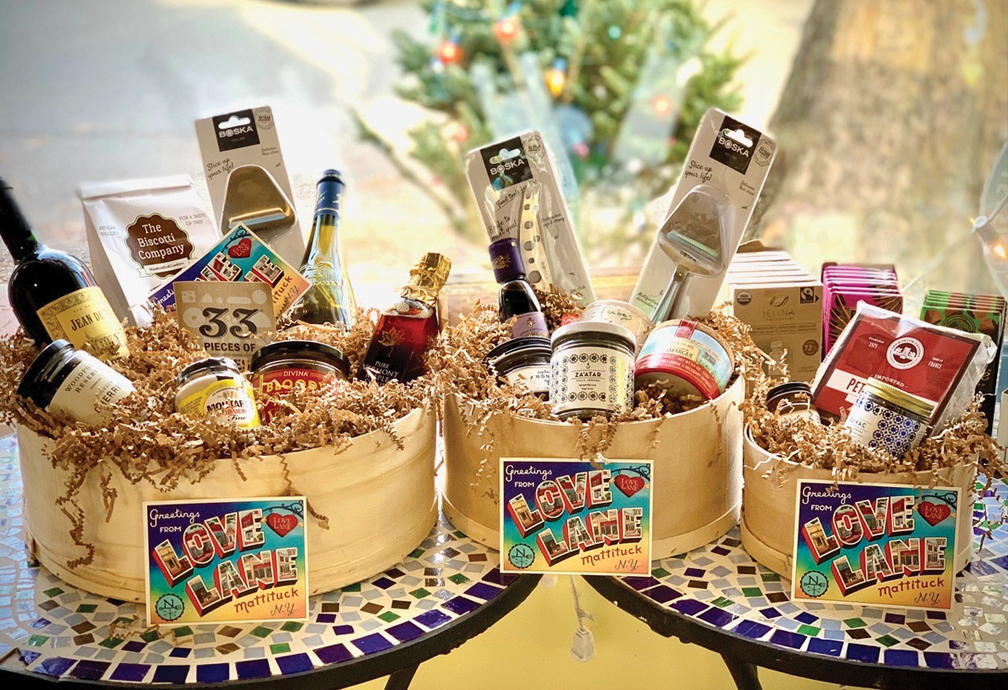 Giving back: The Village Cheese Shop is active in the North Fork community. They remained open throughout the pandemic and offered free delivery for the first six months. Their employees are locals and have been working for the company for years. 
Locations:  105 Love Lane, Mattituck 
Website: thevillagecheeseshop.com
Instagram: @thevillagecheeseshop