It's been a hot summer so far in the Hamptons — a whirlwind of fundraisers, live performances, and even new tequila brands are everywhere. Most of all, the East End art scene is sizzling like the temperatures outside. There are new galleries, new artists, and, of course, the annual Hamptons Fine Art Fair, which took place a few weeks ago and was twice the size of last year. 
Housed primarily in the temperature controled, 40,000 square-foot Pollock Pavilion tent, it was close to 90 degrees the day I went. I fantasized for a moment about seeing David Hockney's, "A Bigger Splash" — a painting that cools you down just by looking at it. Hockney's work wasn't there — or at least I didn't see him represented, but just about every other artist, established and emerging, was and my head was spinning. Thankfully there are many upcoming exhibits and shows to grasp it all, including the next big one in August, Art Market Hamptons, which is held August 11 to 14, in Water Mill.
Going aisle by aisle at the Hamptons Fine Art Fair, processing the talent and endless works was inspiring. Great artists in the Hamptons are not in short supply and are making waves across the globe.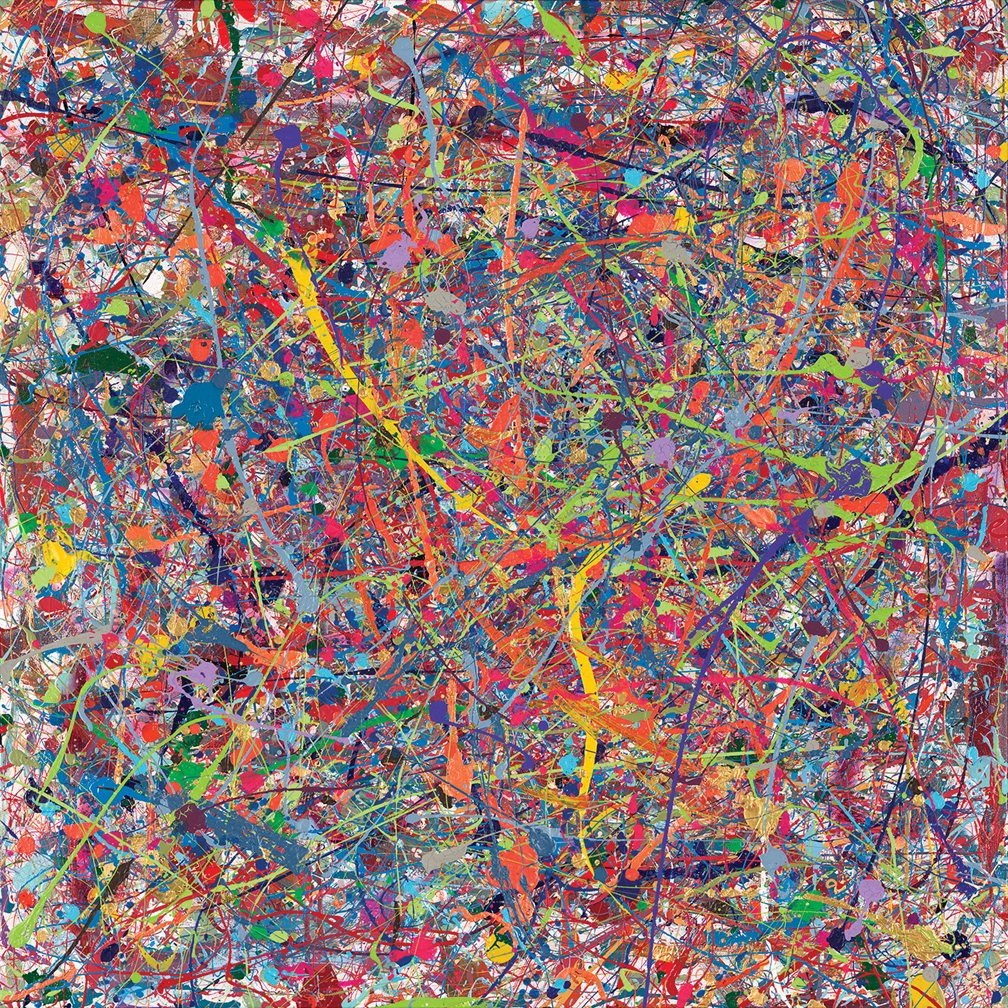 Texas-born Jumper Maybach's work stood out among the sea of booths lining the aisles. Jumper Maybach "is a clown personae and abstract painter, and the alter ego of Ben Workman" I soon learned. When he started painting and found his newfound freedom of expression, he made sure his art spread key messages about universal love.
"Art is my way of taking experiences of sadness and transforming them to happiness," he shared. Hearing his personal story of triumph over trauma was like being thrown into a mesmerizing movie about a remarkable personal evolution. In fact, I soon learned that a documentary, "The Jumper Maybach Story," had been produced after he was dubbed "the Jackson Pollock of the 21st century" while exhibiting in Dubai for his first show in 2013, and then in 2015 and 2017 at the prestigious Alliance Française. It was there that he received the film opportunity. His art will soon be found everywhere with collaborations for eyewear, rugs, and more. It was Jumper's "Infinite Candy" abstract that first captured my attention, but I slowly found myself gravitating to his art with words. "Can't Fix Stupid" speaks to the current times of political uprising. "Hate No More" clearly sends the message that hate must stop. A portion of every sale of his work goes to stopping intolerance.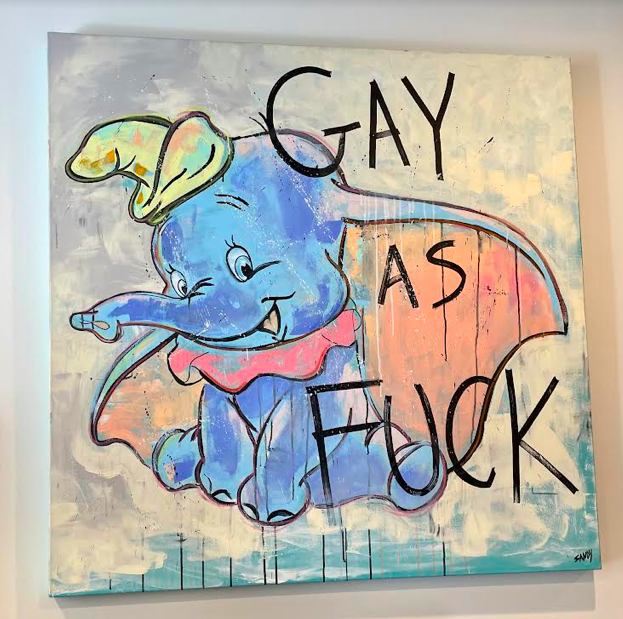 I first discovered the artist Sandy Cohen at one of my favorite galleries in Sag Harbor — the Stella Flame Gallery. Her work is powerful, sending universal messages while making you smile at the same time. Not an easy feat. "My artwork is inspired by personal experiences and influenced by the good, the bad and the ugly of humanity and the world around us. My pieces are meant to evoke feelings and thought. My piece 'Gay AF' was one of the most photographed paintings in the Hamptons Fine Art Fair. It depicts Dumbo the elephant with these words written across the canvas. It's intended to be playful but bold," said Cohen. The innocent image of the loved character Dumbo juxtaposed with this message impacts everyone who sees it. Meeting a few times, when I asked about her work, she said it is, "constantly evolving and transforming but the constant is the truth to self. I use my artwork to shed light on controversial issues. I welcome the opportunities to push the boundaries and create my own rules."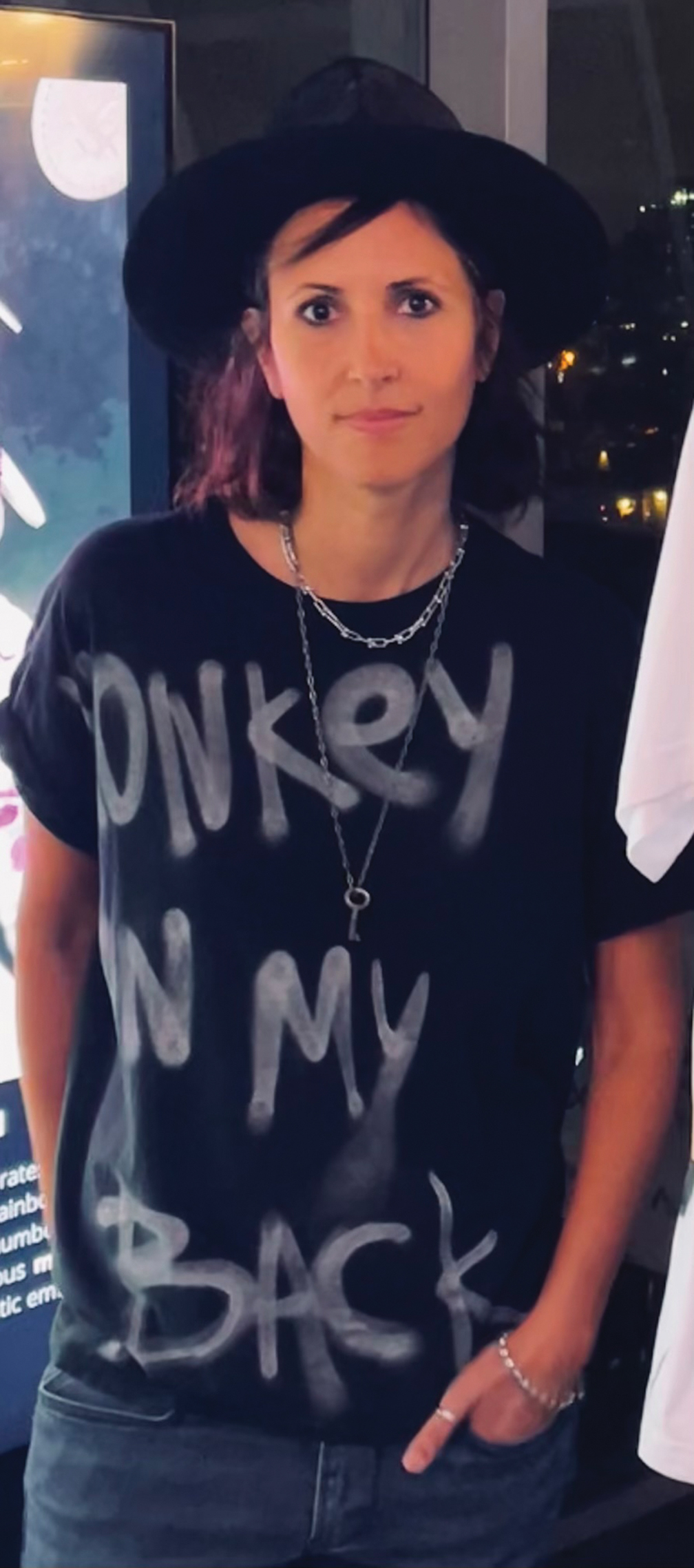 Sandy loves her Hamptons' collectors and says that they are really, for her, an eccentric, extended family. Sandy has a studio in Water Mill and has exhibited works with RJD Gallery as well as Stella Flame. She doesn't stop sharing her work and messages and is currently showing at galleries in St. Barths and Vienna. Most recently Sandy has been sharing works in the form of NFTs.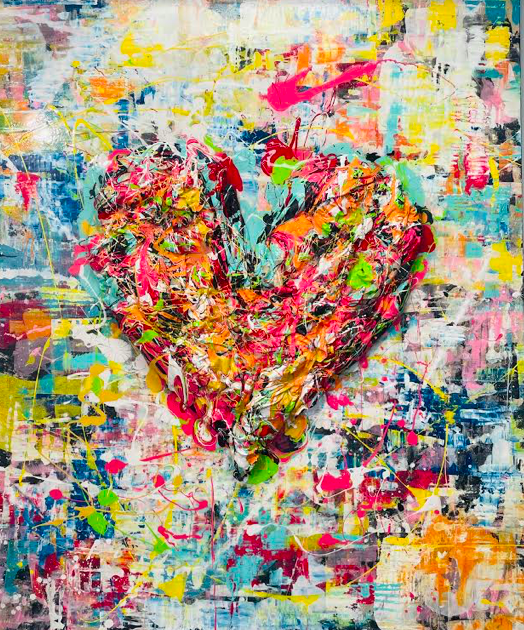 I walked into Loves Gallery in Southampton early in July, on the way home from the beach. Drawn to the informal, yet attractive gallery, the bright colors would make anyone would want to stay. You are greeted by the effervescent owner and artist, Jennifer Contini-Cunningham and it makes you feel like you are home. Cantini-Cunningham is larger than life and makes a point of representing local, emerging artists in a carefully curated, yet anything goes, way. Raising her kids here, the East End community is her family. Her story makes you believe in karma as we discussed her work. Her gallery, the former UPS store in Southampton, came to life when she met UPS owner and photographer, Marianne Barnett who specializes in black and white photography. "The name of my gallery is important because it is all about representing artists that need a home and supporting these great talents," she explained.  Jennifer is constantly out there, finding new talent and everything about her work and gallery is about love and support. "If it wasn't for Marianne, I wouldn't even be here," she added.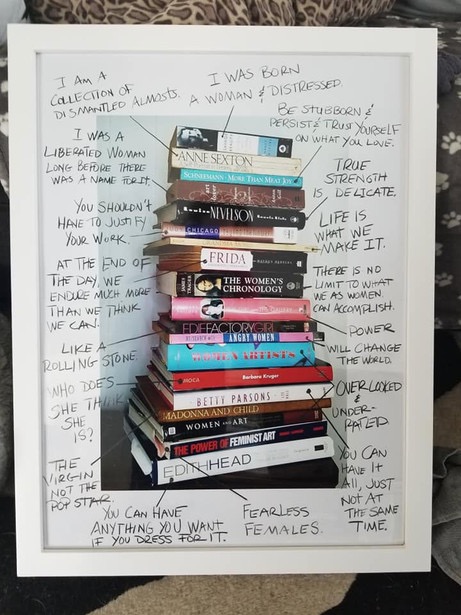 Karyn Mannix's booth, Karyn Mannix Contemporary, caught my eye with her paintings of books, all in a pile, with words that represent varied meanings. 
"My work incorporates my inner thoughts, hopefully showing my sense of humor, while telling the viewer a story. I love being a storyteller. I have worked as an art dealer for nearly 20 years and have seen it all. Of course, books are art all by themselves. I guess I have more to say than the text in the actual book which is why I created these pieces," said Mannix. "'Art and the written word are a direct form of what lies between thought and expression.' This is a quote by Lou Reed, that I tweaked. He is one of the world's best storytellers. Being an avid book collector, one day I looked at a pile of books and I began to relate them to ex-boyfriends, so I added their names with messages to try to find the humor in tough situations. Everyone can relate to that," she added. The book series are grouped into categories. After "Boyfriends" came "Its Only Rock n Roll," "Femme Fatale," "When I Hang Out with Artists," "East End (Bonac)," "Cookery," and so on. There are 10 in the series as of now.