In a limed edition collaboration between The Church and Kidd Squid Brewery Co. the label for Indulgences, a limited edition crisp pilsner, was designed by the renowned contemporary artist Eric Fischl. The label's image is from one of Fischl's most iconic series of figures on beaches. One of the most influential figurative painters of the late 20th and early 21st centuries, the artist's work has been shown internationally in many important museums.
Fischl worked closely with Sag Harbor's Kidd Squid Brewery's co-owners Rory McEvoy and Gráinne Coen to create the digital graphic shown on the aluminum can. McEvoy digitally designs all the company's beer labels, often partnering with important institutions on the East End to create brews unique to each brand for his one year old brewery.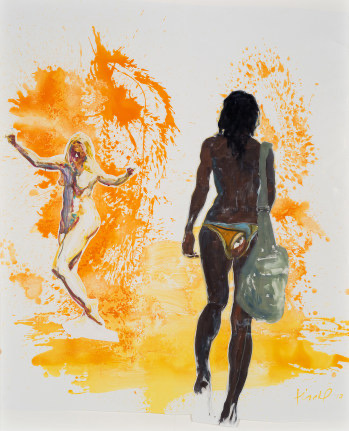 Speaking on the collaboration Eric Fischl states, "Collaborating with Kidd Squid is the pleasures of beer, foam, the splashing around, the kid in me and the joy of it all!"
McEvoy adds, "Kidd Squid is thrilled to be able to work with The Church and Fischl on this extremely limited-run Indulgences pilsner and excited to see how this release can support The Church's ongoing mission."
An Indulgences 4 pack, of which has a can signed by Fischl, is priced at $50 and can be purchased at Kidd Squid Brewery located at 11 Spring Street in Sag Harbor.