After a very successful inaugural Hamptons season in 2021 and an exciting winter season with exhibitions at the Mark Borghi gallery in Sag Harbor and a solo show at the amArtHouse gallery in Connecticut, local artist Chris Kelly will launch his second solo show at the Colm Rowan Fine Art Gallery. The show will open Saturday, May 28, and continue through Sunday, June 19, daily from 11 AM to 5 PM or by appointment.  A meet and greet with the artist will take place on Saturday, May 28, from 4 to 7 PM.
Kelly's opening will launch the 2022 season at Colm Rowan Fine Art gallery in East Hampton Village. The title of the show is "The Eye of the Storm" and is a further exploration of the "geometric abstracts" that Kelly is known for, sometimes described as "hard-edge minimalism." The exhibition features all new paintings and sculptures created in the last year. Most of the works from his first solo show at Colm Rowan Fine Art in 2021 were sold, and the main focus of the new show will be large abstract canvases created with oil paints and pencil. Additionally, the exhibition will include never seen before works on papers (smaller scale) created with acrylics and pencil, as well as abstract sculptures created in wood and metal.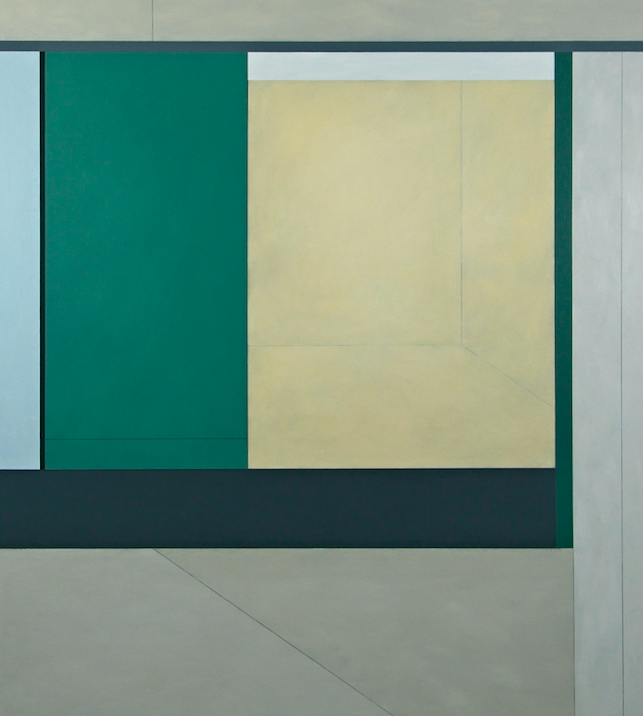 Chris Kelly's artist statement is centered around the hidden geometry of nature – specifically, the Golden Ratio and the Fibonacci sequence. According to the artist, "I believe that art should be, directly or indirectly, about the triumph of beauty and the human spirit. This is my philosophy, and my goal is to create artworks that bring beauty into the world. As I see it, creating art is a metaphor for how to approach living one's life, both physically and conceptually – I observe, analyze, and reimagine many aspects of our natural world, and then reconfigure these deconstructed elements in the process of creating my art. I always like to seek out and discover how things are connected, and for this new series of artworks I am going deeper into the geometry of nature and exploring how it connects humanity to the natural world."
The geometric abstracts series has previously been shown at the following galleries: the Mark Borghi gallery in Sag Harbor (March 2022); the amArtHouse gallery in Bantam, CT (October 2021 – January 2022); Colm Rowan Fine Art in East Hampton (May/June 2021), the two major art fairs in the Hamptons, Hamptons Fine Art Fair and Art Market Hamptons (Summer 2021); the Guild Hall 83rd Artist Members Exhibition (March 2021 – April 2021); and Gallery RIVAA in Roosevelt Island, NYC (November 2020 – January 2021).
Kelly's work will be on exhibit at several additional locations throughout the 2022 season including: Leiber Collection Museum in East Hampton (opening Memorial Day weekend), Hamptons Fine Art Fair, Art Market Hamptons, amArtHouse gallery in Bantam, CT, and Portico gallery in Soho.