The Retreat Boutique thrift store in Bridgehampton received a special donation recently — 10 mannequins from The Metropolitan Museum of Art. These elegant figures were custom-made in Italy for a retrospective on fashion icon Karl Lagerfeld, organized by the museum's Costume Institute.
The exhibition, Karl Lagerfeld: A Line of Beauty, featured approximately 150 pieces from the designer accompanied by Lagerfeld's sketches, and ran from May 5 to July 16. Once the exhibit closed, many of the mannequins found a new home, in the windows of The Retreat thrift store.
"It's very exciting. They are elegant and chic," said Gitana Albinson, store manager at The Retreat Boutique. "The glossy finish really makes them stand out."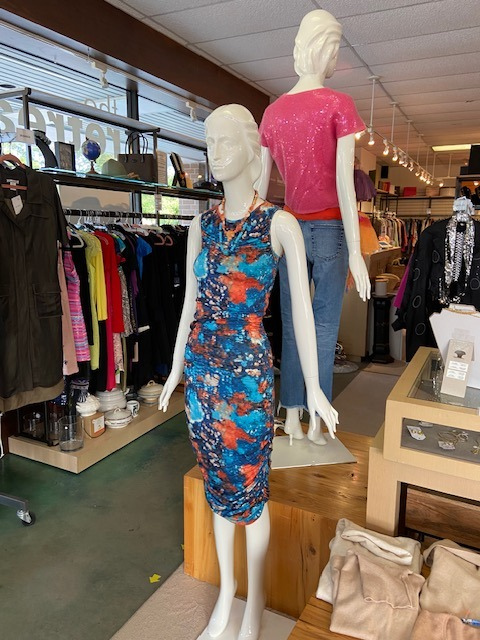 The connection between the store and the Met was made by Retreat volunteer Ani Antreasyan, who had worked at the museum as the assistant to the Met's head designer. At the thrift store, Antreasyan would dress the former mannequins with difficulty because they were not very flexible.
"I attended the Lagerfeld show in May and fell in love with the mannequins and the way they were displayed. Immediately, it became a dream to be able to have some of them after the show as The Retreat Boutique mannequins were old, heavy and difficult to work with," said Antreasyan. "I thought that an upgraded display of the garments would inspire more people to visit and shop at the store. And also [let] our donors know that their donations would be displayed in a fashionable way."
Once the Met approved the donation, Retreat staff member Santiago Abondos drove into Manhattan to retrieve the mannequins.
"These graceful additions to our store really highlight the beautiful designer clothes donated to us every week," said Loretta K. Davis, Executive Director at The Retreat. "The mannequins lift the window displays and we are thrilled to have them!"
Located in the Bridgehampton Commons, The Retreat Boutique thrift store is an essential resource for the non-profit — 100 percent of store purchases go to support The Retreat's free services for domestic violence and sexual assault survivors, which include counseling, prevention education, legal advocacy, 24-hour multi-lingual hotline and emergency shelter.