The Southampton Hospital Foundation has created a new program called Summer of Wellness supported by actress, singer, and dancer Julianne Hough.
Hough lead and participated in two packed classes of her new Kinrgy workout, and commented, "I am here with the Southampton Hospital Foundation and I just want to say I love the Hamptons, I love what you are doing out here and I am here to support in any way I can." The classes were hosted by Hamptons Magazine publisher and Vision member, Lynn A. Scotti, in Bridgehampton at Topping Rose House on July 7, and all participants received well stocked Kingry gift bags, which included a free 90 day pass to Hough's new Kinrgy workout platform.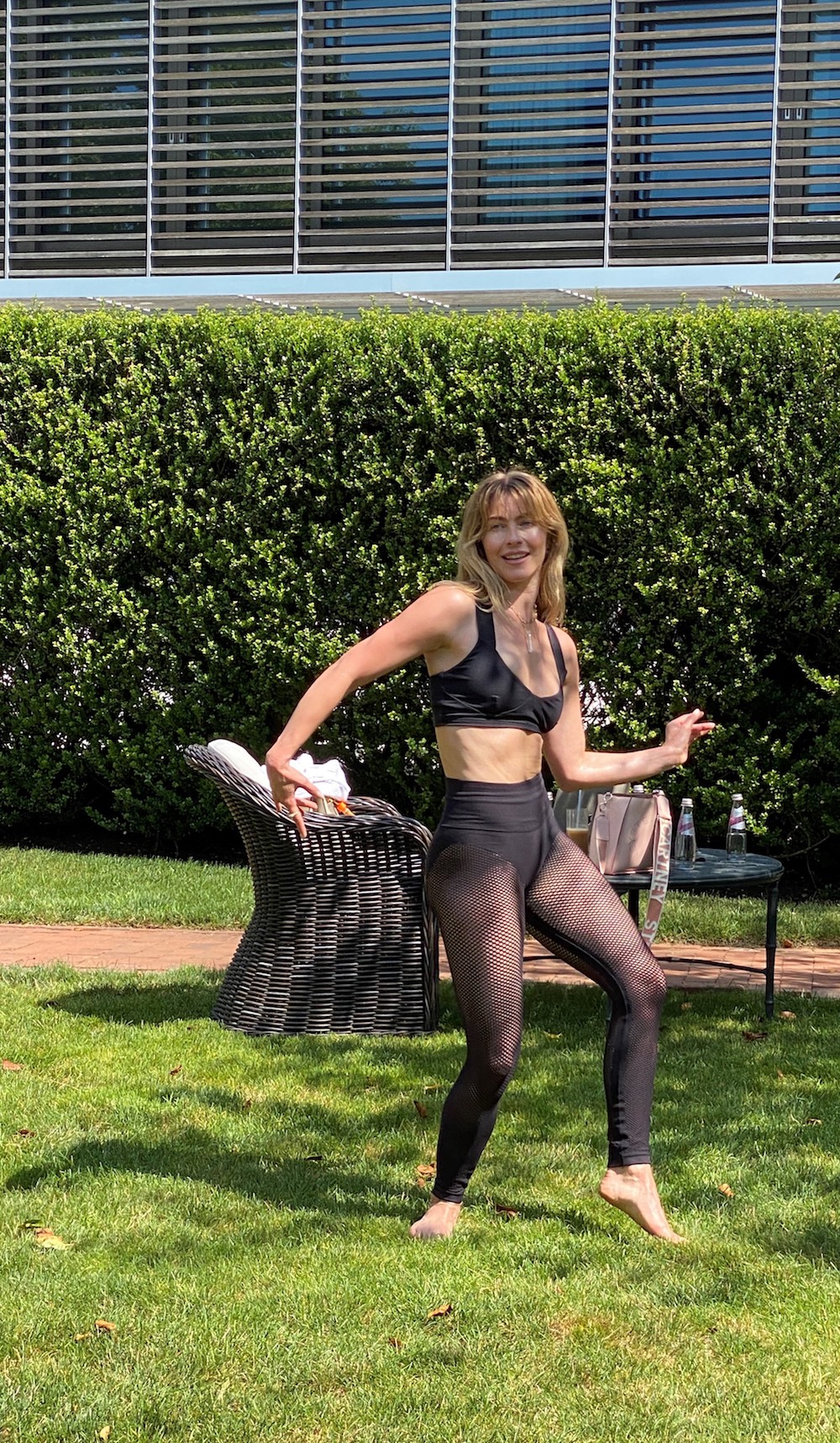 The Summer of Wellness is spearheaded by the Foundation's Vision group, a newly formed collective of people who live or spend summers in the Hamptons and believe access to high quality healthcare on the South Fork is a priority and a cause worth supporting. Classes will take place across the East End, from Westhampton Beach to East Hampton, throughout the summer.
All the proceeds of Summer of Wellness go to the Vision Fund at the Foundation. The Vision Fund will support the new Stony Brook Southampton Hospital being planned on the Stony Brook Southampton campus. Members of the Vision board include: Brooke and Nicholas Bohnsack, Elizabeth Bowden, Kingsley Crawford, Courtney and Adam Crown, Mireya & Joseph D'Angelo, Caitlin Diebold O'Connell, Marla and Mark Fortner, Susan Harrison, Gabby Karan, Chase Lerner, Colette and Rocco Lettieri, Michael Lorber, Haley Willis and Peter Ludlow, Nathania Nisonson, Amanda and Jason Redlus, Lynn A. Scotti, Erin Sykes, Monica and Peter Tessler, Sarah Wetenhall and Joey Wölffer. 
Summer of Wellness kicked off a few weeks ago with a jam-packed DanceBody class in Bridgehampton led by DanceBody COO + Co-Founder Courtnay Mariani and hosted by Vision member Brooke Bohnsack. This was followed up by a high-energy Run & Lift class led by Amber Rees at Barry's Southampton studio, hosted by Vision member Susan Harrison. 
August classes will kick-off with Yoga in the Vines with Erica Velasquez, hosted by Vision member Joey Wölffer, at The Wine Stand at Wölffer Estate on Friday, August 4 at 10:15 a.m. A Torch'd class with celebrity trainer Issac Boots, hosted by Vision member Lynn A. Scotti, will follow on Saturday, August 5 at Topping Rose House at 9:30 a.m.
"I am honored to raise money for Southampton Hospital Foundation, which serves the community of the Hamptons and provides access to quality healthcare all year-round," Boots expressed.
Summer of Wellness will continue with Paddle Diva with Gina Bradley on Friday, August 11 at 9:30 a.m., Yoga at Mecox with David Marshall, hosted by Vision member Haley Ludlow, on Saturday, August 12 at Mecox Bay Dairy at 11 a.m. and Yoga with Olga Palladino at the Greek Church, hosted by Vision member Caitlin Diebold O'Connell, on Thursday, August 17 at 9:30 a.m. Local fitness guru Cody Hoyt will lead his version of HIIT at 7 Fitness, hosted by VB member Colette Lettieri, on Friday, August 18 at 9 a.m. The series will conclude on Saturday, August 19 at 9 a.m., when John Kim will take participants through his martial arts based training at Studio Moodo. Lettieri will host this class as well.