We can count on one, maybe two hands, who the real estate power players are on the East End. Douglas Elliman's Enzo Morabito is one of those superstars who has been leading the number one team in the Hamptons for the last ten consecutive years. It was with this knowledge that we at James Lane wondered how someone with his experience and stature in the industry has pivoted during the global pandemic. We caught up with Mr. Morabito to learn more about his success, tips, trends and how he's been coping with his enormous uptick since COVID-19 upended and brought the gold rush to the Hamptons.
Enzo, how has the COVID-19 crisis affected your business? It must have been intense.
The movement in the market has been tremendous. We have seen nearly double the business from the previous year. That said, based on the root cause, hopefully it never happens again.
How are you doing business currently? Are there open houses and if so, how are they performed?
The days are definitely longer. I get up earlier and earlier to make sure I'm caught up with the market demand, which is stronger than I've ever seen it. As for the operational aspect, we've changed the way we do business. Rarely are we now in the office. Everything is by appointment and per Covid protocols.
Fortunately, for the open houses, my team has perfected the art of getting people on-site and moving them safely through once they are there. It takes a village to keep this kind of precise clockwork in motion and I couldn't do it without my crack team — Greg Geuer, Chris Furchert, Meghan Bozek, Danielle Baker, Erica Smitheman, Dawn Watson, and Sean Gray.
Are you personally seeing a permanent migration to the East End from city folk as we have heard?
We've been seeing record migration for nearly a year now. It's not finished yet. The big question is will it stay this way? How many people who previously had a second or third home in the Hamptons will make this their primary residence going forward? Time will tell.
Are there any homes that you've sold that you're particularly proud of in 2020?
There have been so many. The sheer numbers of successful transactions that we've had in the past year is staggering. I'm most proud of the fact that we've been able to be part of the process for so many satisfied clients and customers. But, I can't let the question pass without sharing my pleasure at getting the Sag Harbor 7-Eleven property into the hands of the folks at Bay Street Theater.
Courtesy Enzo Morabito
What are some trends you are seeing in homes that is now important but wasn't prior to the Covid-19 outbreak?
More than ever, your home is the center of the universe. Aside from the new necessities — gym, office, entertaining spaces — our homes have become inclusive of our lives. Everything has changed. We've gone from the concept of home as the place where we eat, sleep, and live to home as a department store, a movie theater, a sports park, a fitness center, a spa with hotel amenities, a restaurant. Everything is now at our fingertips.
Your brand touts "white glove" concierge service. What exactly does that entail?
We have the resources, the manpower, the abilities, the drive and the desire to be the best. And we stay in constant contact and keep everyone in our networks more informed. Even when I started out, these have been the things that have mattered to me. I've built the team around these concepts. It's a lot of effort but it's the only way to do business.
What marketing channels are you using to market your exclusives and to attract sellers these days?
I'm a broad-based marketing guy. My firm belief is that you need to utilize every good opportunity that you can—print, social, digital, TV, radio, sponsorship, community involvement, and public relations. Number one, I have the resources to do it. Number two, I'm not afraid to use them. I want to get that message out worldwide. So whether it's flying a banner across the beach, filming television commercials or bringing on Dawn to do our own in-house PR, I'm going to keep going at it from all sides. It all works together.
What advice would you give sellers right now?
The same advice that I have always given; the main point is that you have to get to the right price. Don't list something that's so far beyond market value that it won't sell. Price it right and you'll probably start a bidding war. I love bidding wars.
What about buyers? Is there a new objective towards attracting buyers to the scale of homes that you sell?
It's a sellers' market. Buyers have to smart, savvy, and prepared. And, for the most part, they are. They know the inventory and they recognize the value of a great property. Since I'm primarily a listing broker, I get contacted by buyers every day who are interested in our listings. Since we're known to have the listings — across all price points on entire East End — we have the luxury of buyers coming to us.
Are there any up-and-coming neighborhoods we should know about?
ALL of the neighborhoods are up and coming in the Hamptons. Right now we're seeing continued growth in Sag Harbor, Westhampton Beach, Remsenburg, and East Hampton. But there are more areas that are on our radar, for sure. I love data and research, and I love to spot trends before they happen. That's how we've stayed sharp and ahead of the curve.
How do you see the market playing out in 2021?
It's looking to be just as strong this year as it was last year. Turns out, this is a pretty good place to roost.
You've won nearly everything awarded real estate superstars. What's your secret?
I'm proud to have headed the number one team in the Hamptons every year for the past 10 years in a row. But it's not about my ego or the rankings; it's about sustained excellence.
My secret is not a secret at all. It's commitment to putting the needs of my clients and customers first, a passion for putting deals together and just loving what I do.
What do you do for fun when you're not working?
Work IS fun!
Learn more about Enzo Morabito:
138 Main Street
Sag Harbor, NY 11963
Phone: 631.537.6519
Mobile: 516.695.3433
104 Main Street
Westhampton Beach, NY 11978
Phone: 631.288.6844
Mobile: 516.695.3433
Featured Properties: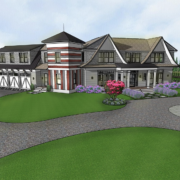 945 North Sea Mecox Road, Water Mill 7 Beds / 7 Baths / 2 Half Baths / Single Family Home / $7,995,000 Introducing a pre-construction offering in Water Mill by celebrity restaurateur Willie Degel, the founder and CEO of Uncle Jack's Steakhouses and a custom builder/designer of lifestyles. Construction is underway for an industrial modern…